University Parliament Week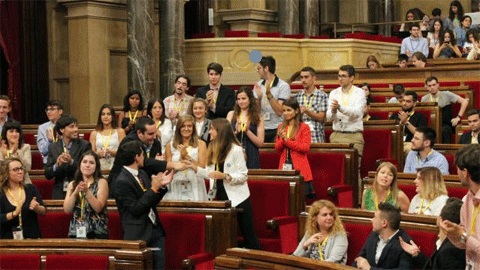 University Parliament Week
Do you want to find out about the structure of the Catalan Parliament, how does our parliamentary system work or which tasks are performed there?

The aim of the University Parliament Week 2020 is to let students discover the political workings, the structure and the functions of this institution and also the job of the people who are representatives in the Parliament.

During this week there will be simulations of the parliamentary activity, supervised by university teachers. The sessions will also have the participation of members of the Catalan Parliament and representatives from other Catalan political and institutional areas. In order to proceed with the simulations, students organize themselves in groups that meet their areas of knowledge and interests:

• Parliamentary groups
• Legal advisors
• Language advisors
• Parliamentary press and media

Dates:
13 to 23 July 2020.

Place:
According to the measures to prevent COVID-19, this edition will be focused on online seminars as well as the parlamentary simulation. All contents and the complete programme are available on the website Spuni2020.

Registration:
Filling the registration form.

The students who participate in this activity will have the chance to recognize 2 ECTS.

You can find more information and the complete programme in the University Parliament Week website.