Winners of the 2019 edition
Winners of the Photography Contest Ed. 2019
Here you have the winners of the Photography Contest.

2019 Edition

1st Prize

Title: Carambola
Author: Claudia Mallia Ogayar

"Una partida de billar una mica peculiar durant un dels millors viatges d'aquest Erasmus. Fèiem temps per agafar el tren que ens portaria de ruta per Bèlgica i l'única regla del joc era no deixar de riure. L'home que ens va fer la foto també ho feia, això de riure molt."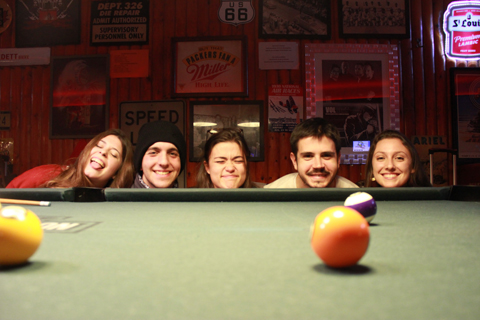 2nd Prize

Title: Make the most of your Erasmus experience!
Author: Rayén Garance Feil

"Película de 35 mm, tomada en "La Escocesa" (centro de talleres de artistas) en Poblenou, Barcelona. Enero 2019. El foco de la foto es el eslogan "No hagas nada", que está escrito en un paño colgado en los patios de los estudios de artistas. Este eslogan puede leerse como la respuesta a la llamada realizada en el título de la foto ("¡Aproveche al máximo tu experiencia Erasmus!"). Este es un llamamiento que a menudo se dirige a los estudiantes que realizan un semestre o un año en el extranjero desde muchos lados: el programa Erasmus, las universidades, las empresas de la red Erasmus, los organizadores de fiestas y viajes, etc. También forma parte implícitamente del ideal creado en torno a esta experiencia de estudiar en el extranjero, es parte del discurso relacionado con hacerlo: se trata de no perderse nada. La fotografía intenta reflejar la presión que este eslogan ejerce sobre los estudiantes y cómo a veces lo mejor puede ser rechazar esta demanda constante y todas las ofertas presentadas - y simplemente gozar y no hacer nada (o hacer algo que uno realmente quiere hacer)."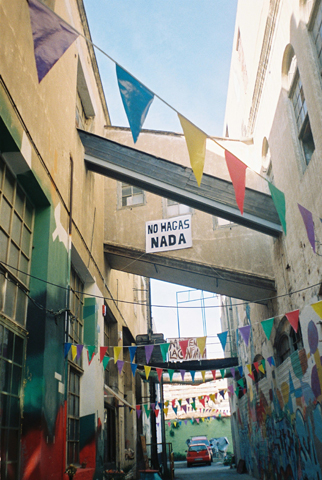 You can find all the pictures in our Facebook album.