Delegate for equality
Equality delegates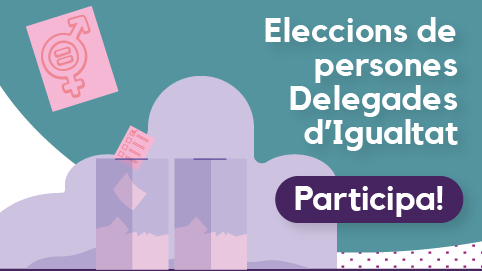 The creation of the figure of the Delegate for Equality of the students is framed in the application of the operative objective 3. Create the figure of the delegate for Equality of the students, of the measure 1.3.5. Improve the governance of the equality policies of the University, of the IV Action Plan for Gender Equality of the UAB (IV PAG). The action is promoted and coordinated by the Community Involvement Unit in collaboration with the Observatory for Equality.
The Equality delegates:
are part of the working group of Equality delegates of the Observatory for Equality.
the faculties are proposed to join the centre's Equality Commissions, if they do not have active representation of students.
participate in the centre's Student Council.
In addition, the Equality delegates will have to choose, among themselves, the people who will participate in the following bodies:
2 people who participate in the UAB Student Council (CEUAB).
2 people to participate in the Equality Plan Monitoring Committee.
Equality delegates persons. Academic year 2022/2023
Centre
Representatives
Biosciences
Narine Fischer Albiol
Queral Ventura Domper
Sciences
Marta Cerrato Franch
Paula Casals Fanlo
Anna Xiu Obradors Castillo
Ariadna Terron Ferret
Educational Sciences
Kiara Montoy
Aran Sala Vila


[vacant]

Communication Sciences
Gemma Guasch Montesinos
[vacant]
Political Science and Sociology
Claudia Cairó Munné
Anna Berthet Martí
[vacant]
Law
Mariuxi Meliza Salazar Sosa
Nora Navarro Ruiz
Rocio Gautier Lobo
Economics and Business
Ashot Geghamyan
Olga Coll Fullana
School of Engineering
Joana Alonso Mayor
Laia Vilardell Castañe
Philosophy and Arts
Aimara Ventoso Tubio
Maria Albàs Gómez
Medicine
Natàlia Berthet Martí


[vacant]


Emma Rayo Suárez
Psychology
Daniel González Rosselló
Hugo Núñez Borges
[vacant]
Translation and Interpreting
Minerva Salguero Morente
Anthony Gómez Resina
Miriam Picon Lopez
Veterinary
Monica Chavarria
Queralt Giralt Planas