Jocs Florals 2019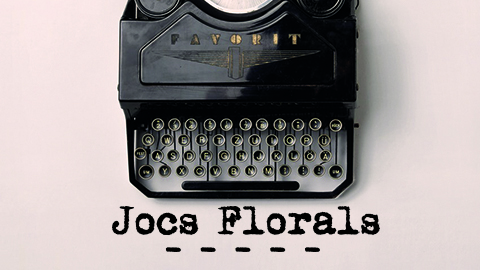 The Translation and Interpreting Student Council, in collaboration with the Faculty of Education and the Faculty of Arts and Humanities, with the support of Dinamització Comunitària, presents the 2nd Edition of Jocs Florals.

CONTEST CONDITIONS
Participants
Participation is open to any person studying a major in any of the three aforementioned faculties.

Work submission
Works must be self-created content and must have not been published before. Work submission will be carried out through an online form.
Participants can submit up to two writings in a maximum of two different categories (although they can be in the same category).
Privacy of all participants is guaranteed.

Categories
There are two categories: creation and translation.

Creation
This category is divided into three subcategories: flash fiction, short story and poetry or haiku. You can participate in any of the following languages:

Flash fiction
Spanish
Catalan
English
Short story
Poetry or Haiku
Translation
A text from the annex (click on each link to view the text of the language you are interested in) will be translated originally into one of the following languages:
•
English
•
French
•
German
• Romance languages (
Romanian
,
Galician
,
Italian
,
Portuguese
and
Occitan
)
• Asian languages (
Japanese
,
Chinese
and
Korean
)
• Other languages (
Basque
,
Russian
,
Arabic
,
Greek
)
Format
Works must be submitted in PDF format and font Arial 12, line spacing 1,5.
Flash fiction writings can contain a maximum of 750 characters or 10 lines long.
Short story writings can contain up to 5 pages maximum.
Poems or haikus must contain 3 pages maximum.
EXAMINING BOARD
The committee that will evaluate the writings will be formed of teachers from the three faculties. The FTI Student Council will be in charge of delivering the submitted works with pseudonyms to keep the authors anonymous and to promises to safeguard all personal data. The examining board is committed to keep the verdict secret until the award ceremony. The examining board will be formed of the following teachers:
Francesc Parcerisas
Cristian Olaya
Jordi Mas
Miguel Edo
Anna Aguilar-Amat
Regina Soraiva
Joaquim Sala
Antoni Rossell
Alba Losada
Sara Rovira
Dolors Udina
Mercè Altamir
Josefina Caball
Mihwa Jo
Ramón Lladó
Luidmila Navtanovich
Catherina Favret
Anna Gil
Núria d'Asprer
Montserrat Franquesa
Lucía Molina
Jon Elordi
Ramón Farrés
Melinda Dooly
Xavier Fontich
Ana María Margallo
Ramon Panyella
Fernanda Bustamante
David Roas
DEADLINES
Open call for proposals: 15 February.
Deadline for proposal submission: 15 March.
Award ceremony: 24 April from 1 p.m. to 2.30 p.m. in Aula 004 of Facultat de Traducció i Interpretació.
CONTEST CONDITIONS ACCEPTATION
Each student taking part in this contest accepts its conditions and will not submit a plagiarised text.
Participation in this contest implies cession of publishing, distribution and dissemination rights in the UAB media, always respecting authorship, as the intellectual property legislation states, without receiving any sort of financial compensation. Winners will receive a symbolic prize equivalent to a gift voucher in UAB bookshop Abacus and a Paperblank notebook. Their texts will be exhibited in the three faculties.
Participating in this contest implies acceptance to these its conditions.
The Student Council reserves the right to change these deadlines if considered. A category might be considered desert if any of the texts submitted has the minimum quality requested.
Collection of writings submitted for the Jocs Florals 2019
These were the winners in the two categories:
1. Category of creation:

- Spanish - Poetry: De aquí a Madrid by Sara Navarro Garcia
- Catalan – Short story: Alicia by Maria Batle Cladera
- Catalan – Poetry: Fora de joc by Mar Chavarria Martí
- English – Poetry: Half Empty Bottle by Cristina Casares Muñoz

2. Category of Translation:

- French: Catalina Fernández Utiel
- German: David Cànovas Cots
- Romance languages: translation from Rumanian, by Marc Riera Irigoyen
- Other languages:
Basque: Edurne Sanz Arsuaga
Russian: Gemma Sastre Sancho
Arabic: Vanessa López Vilchez