Films of The Dark '70s

Films of The Dark '70s
From March 5th to May 28th of 2019
Organized by Departament de Comunicació Audiovisual i Publicitat (Facultat de Ciències de la Comunicació)
Tuesday March 5th at 9.45 am
Círculo Rojo (Le cercle rouge, 1970), by Jean-Pierre Melville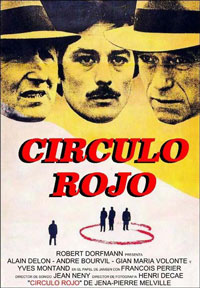 Corey (Alain Delon) has served his sentence in a prison in Marseille and must face society again. However, along with Vogel (Gian Maria Volonté), a fugitive from justice moves to Paris to rob Rico, the head of the gang he belonged to before entering jail. Of course, his old boss will try by all means to stop him. They are also persecuted by policeman Mattei, who with the help of Santi, the owner of a nightclub, will set a trap for them.
Country: France / Runtime: 140 minutes / Genre: Crime, drama / Language: French with Spanish subtitles
Tuesday April 2nd at 9.45 am
El Exorcista (The Exorcist, 1973), by William Friedkin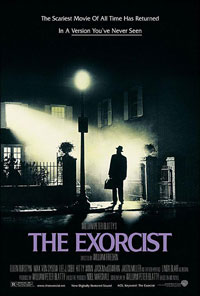 Linda Blair plays Regan, a 12-year-old girl possessed by the devil. After exhausting all the options of science, psychology, and medicine, Regan's mother (Ellen Burstyn) realizes the supernatural nature of her daughter's condition and resorts to a religious solution, turning to Father Karras (Jason Miller) for an exorcism. Aided by the mysterious Jesuit exorcist Father Merrin (Max von Sydow), Karras must confront not only supernatural phenomena but also his own inadequate faith and displaced guilt over his mother's recent death, a personal torment Regan uses to manipulate him, but with disturbing results.
Country: USA / Runtime: 121 minutes / Genre: Horror / Language: English with Spanish subtitles
Tuesday April 9th at 9.45 am
Pat Garret y Billy el niño (Pat Garrett and Billy The Kid, 1973), by Sam Peckinpah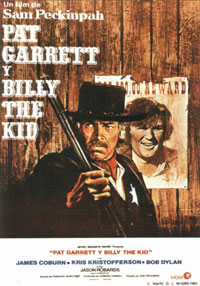 1909. Bushwhackers from the politically corrupt Santa Fe Ring gun down New Mexico rancher Pat Garrett (James Coburn) on his own land. 1881. Seeing middle age and poverty on the horizon, Garrett sells out to the ambitious cohorts of governor Lew Wallace (Jason Robards Jr.), takes on a badge, and proceeds to hunt down and kill Bonney - better known as Billy the Kid.
Country: USA / Runtime: 122 minutes / Genre: Western / Language: English with Spanish subtitles
Tuesday May 7th at 9.45 am
Fiebre del sábado noche (Saturday Night Fever, 1977), by John Badham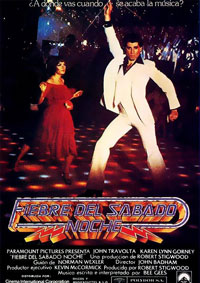 The film that made John Travolta a household name is set in Brooklyn to the popular dance music of the Bee Gees. Tony Manero (Travolta) is a paint-store clerk who becomes the king of the discotheque when he puts on his polyester and gets down, with a little help from a social-climbing Manhattan secretary (Karen Lynn Gorney). This definitive portrait of a generation of disco dancers in the 1970s skyrocketed its young star to fame and further propelled the disco inferno infatutation.
Country: USA / Runtime: 119 minutes / Genre: Music, drama / Language: English with Spanish subtitles
Tuesday May 14th at 9.45 am
Suspiria (1977), by Dario Argento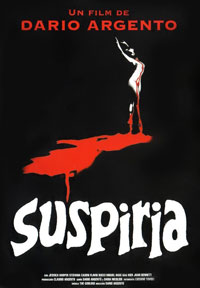 A young American dancer travels to Europe to join a famous ballet school. As she arrives, the camera turns to another young woman, who appears to be fleeing from the school. She returns to her apartment where she is gruesomely murdered by a hideous creature. Meanwhile, the young American is trying to settle in at the ballet school, but hears strange noises and is troubled by bizarre occurrences. She eventually discovers that the school is merely a front for a much more sinister organisation.
Country: Italy / Runtime: 101 minutes / Genre: Horror / Language: Italian, Russian, German and English with Spanish subtitles
Tuesday May 28th at 9.45 am
El cazador (The Deer Hunter, 1978), by Michael Cimino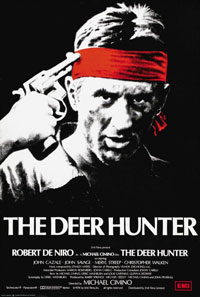 It follows a group of steelworker pals from a Pennsylvania blast furnace to the cool hunting grounds of the Alleghenies to the lethal cauldron of Vietnam. This war conflict will change their lives forever.
Country: United States / Runtime: 183 minutes / Genre: Drama, war / Language: English with Spanish subtitles