FUAB General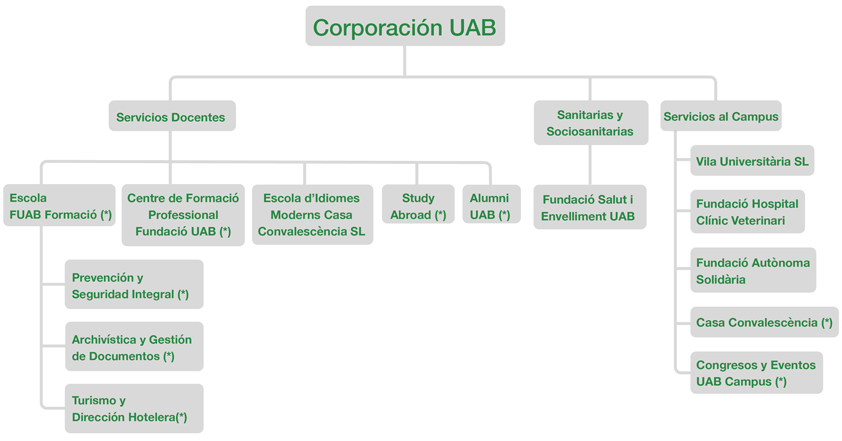 (*) Without individual legal personality.
(**) Non-active. The Cafeteria in Casa Convalescència and the restaurant on the Plaça Cívica are managed by Aramark SL, and the Hotel Campus by Hotel Barberà Molí SL.
The UAB Foundation:
A) holds the position of Director General of the following of the group's foundations:
Fundació Alumni
Fundació Salut i Envelliment UAB
Fundació Autònoma Solidària
Fundació Hospital Clínic Veterinari
Fundación Wassu

B) is sole partner of the commercial enterprise "Escola d'Idiomes Moderns Casa Convalescència SL" and Hotel Campus SL and majority partner in the commercial enterprise "Vila Universitària SL".
| | | |
| --- | --- | --- |
| Directory of entities and websites | Telephone | E-mail |
| Prevenció i Seguretat Integral | 93 592 97 10 | fuab.formacio@uab.cat |
| Arxivística i Gestió de Documents | 93 592 97 10 | fuab.formacio@uab.cat |
| Turisme i Direcció Hotelera | 93 592 97 10 | fuab.formacio@uab.cat |
| Centre de formació professional Fundació UAB | 93 592 97 10 | |
| Escola d'Idiomes Moderns Casa Convalescència | 93 433 50 60 | |
| Programes Específics per a Estudiants Internacionals- Study Abroad UAB | 93 433 50 29 | study.abroad@uab.cat |
| Fundación Wassu | 93 586 87 99 | |
| Fundació Salut i Envelliment | 93 433 50 30 | |
| Hotel Campus S.L | 93 580 83 53 | |
| Vila Universitària S.L | 93 581 70 04 | |
| Fundació Hospital Clínic Veterinari | 93 581 18 94 | |
| Fundació Autònoma Solidària | 93 581 24 85 | |
| Alumni UAB | 93 586 81 03 | |
| Casa Convalescència | 93 433 50 00 | |
| Congressos i Esdeveniments UAB Campus | 93 581 74 01 | |