Deputy Executive Chair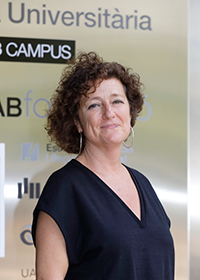 Director: Maria Espadalé
Short biography
Licenciada en Ciencias Políticas y Sociología (itinerario Relaciones Internacionales) por la Universidad Autónoma de Barcelona (1989), cuenta con un Diploma de Postgrado en Comunicación Empresarial por el Instituto de Educación Continua de la Universidad Pompeu Fabra (2001) y un Master en gestión y Dirección Universitarias por la Fundación Universidad Politécnica de Cataluña (2005).

Trabaja en la UAB desde abril de 1997, donde ha sido técnica de auditorías de gestión académica y del sistema ISO de Calidad del Servicio de Bibliotecas (hasta enero 2000) y jefe de la Oficina de Coordinación Institucional (febrero de 2000 - enero de 2009). Desde noviembre de 2011 es la administradora de centro de las facultades de Filosofía y Letras y de Psicología. De julio de 2016 a octubre de 2020 ha sido responsable del Gabinete del Rectorado.

También ha trabajado como documentalista, redactora y formadora en la Fundación CIDOB, Centro de Información y Documentación Internacionales, (1989-1993) y como gerente del Centro UNESCO de Cataluña, asociación sin ánimo de lucro que llevaba a cabo proyectos procedentes de convocatorias competitivas a escala autonómica, estatal y europea (enero de 2009 - octubre de 2011).

General duties
To support the governing team and to participate and collaborate in strategic planning, objective building and in the analysis and setting up of new projects, and in viability studies and their execution for the UAB Foundation.
Organise the administrative and financial services and coordinate the administration of the other services of the UAB Foundation.
Act as director of human resources.
Ensure the fulfilment of agreements by the governing bodies of the UAB as they relate to the UAB Foundation.
Control income and expenditure management as set out in the budget of the UAB Foundation, supervising to ensure that budget provisions are satisfied.
Draw up and update the inventory of the goods and rights that make up the assets of the UAB Foundation and manage them accordingly.
Assume all other responsibilities assigned under the present Statutes, regulations for implementing them and any other responsibility delegated by the rector.

The following department and services report to the Deputy Executive Chair:

Promotion and Communication