Amics de les Biblioteques Award
PRESENTATION OF THE PRIZE OF THE 6th EDITION (2021) OF THE "AMICS DE LES BIBLIOTEQUES" PRIZE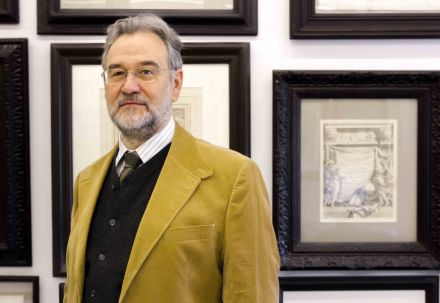 Bonaventura Bassegoda i Hugas has been Professor of Art History at the Autonomous University of Barcelona (UAB) since 1998, where he has been a lecturer since 1978. He has been director of the Drawing and Engraving Office of the National Art Museum of Catalonia (1991-1993), director of the Art Department of the UAB (1994-1998), member of the board of directors of the Spanish Committee for the History of Art (1994-2004), art manager of the General Subdirectorate of Research of the Ministry of Education and Science (2004-2007) and Vice-Rector for Social and Cultural Transfer at the UAB (2008-2012). He has been a full member of the Royal Catalan Academy of Fine Arts of Sant Jordi since 2012 and of the Historical-Archaeological Section of the Institut d'Estudis Catalans since 2017.
He is the director of the Digital Librar of His (BDHAH) (www.uab.cat/biblioteques/arthispanic), a project that began in 2008 with the collaboration of the Humanities Library, which specializes in 19th and early 20th century art literature.
The BDHAH collects documentation digitized by the UAB -books and journals that form part of the collections of the UAB libraries and other institutions- (ETSAB-UPC, Universidad Complutense, the Institut Amatller d'Art Hispànic, etc.). It also selects bibliography on Hispanic art that can be found in different digital repositories (for example, the Valencian Digital Library or the Virtual Library of Andalusia). There, you can find documentation of all kinds: journals, essays, exhibition catalogues, monographs on artists or on buildings, lectures, etc.