Amics de les Biblioteques Award
PRESENTATION OF THE PRIZE OF THE 4th EDITION (2020) OF THE "AMICS DE LES BIBLIOTEQUES" PRIZE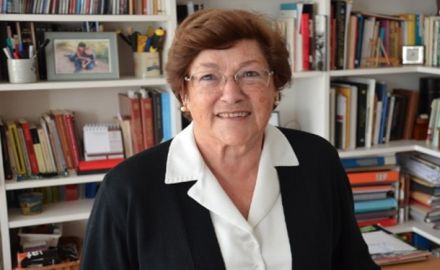 Pilar Benejam is a retired professor in the Department of Language and Literature and Social Sciences Teaching at the UAB, where she taught from 1972 to 2004. A teacher at the Balearic School of Teaching (1961), with a degree in Pedagogy (1966) and History (1972) from the University of Barcelona, Professor Benejam holds a PhD in Pedagogy (1985) from the UAB. She was one of the signatories of the declaration of principles known as the Bellaterra Manifesto, which was made public in 1975. In addition, she was general coordinator of the educational centers of the Barcelona Provincial Council (in catalan, Diputació de Barcelona) and director of the Institute of Educational Sciences of the University and is a member of the Rosa Sensat Teachers' Association.
She was part of several commissions dedicated to the reform of teacher training in Catalonia and Spain. She is an expert in reviewing pedagogical renewal, didactic innovation and school programming in the Social Sciences (especially in the field of Geography) and has advised public administrations in reference to the entire training cycle.
She has published works of a theoretical nature, such as La formación de maestros. Una propuesta alternativa ["The formation of teachers. An Alternative Proposal"] (1986) and several textbooks for secondary education in Geography, for example Intercanvi. Geografia humana i econòmica del món actual ["Exchange. Human and economic geography of the present world"] (1976). She has participated in books such as El proyecto curricular en el contexto del proyecto educativo institucional ["The Curricular Project in the Context of the Institutional Educational Project"] (1999), Una geografía humana renovada: lugares y regiones en un mundo global ["A Renewed Human Geography: Places and Regions in a Global World"] (2000), and Las ciencias sociales: concepciones y procedimientos ["The Social Sciences: Conceptions and Procedures"] (2002). She has also published articles in specialized journals, such as Documents d'Anàlisi Geogràfica, Perspectiva Escolar, Cuadernos de Pedagogía, Iber, Escola Catalana and Revista Interuniversitaria de Formación del Profesorado.
Pilar Benejam has received, among other distinctions, the Creu de Sant Jordi of the Generalitat, the Ramon Llull Prize, the Jaume Vicens Vives Prize and the Marta Mata Prize (within the Catalonia Education Awards 2011).
In 2019 she made a donation to the Humanities Library consisting of essays, textbooks, journal articles, conference proceedings, etc., which contains all his scientific output, focused on Education, Social Sciences and Geography.