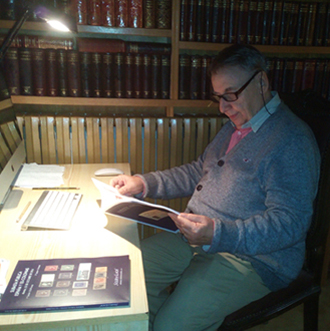 Reguant collection
Col·leccions Especials
Science and Technology Library
Antoni Reguant was born in Sabadell in 1942. He is an industrial engineer of the Barcelona School of Industrial Engineers and a computer science graduate in the first year of the Technical University of Madrid. He also studied mercantile and expert studies at the School of Commerce of Sabadell. His career has been developed in the business world and has been dedicated to the counseling and organization of societies in recent professional years.

But the great passion and at the same time the great challenge of this businessman has been collecting books, mainly of mathematics, but also of physics, chemistry and science applied to engineering.

This unique collector gave the UAB a large part of his personal library of 3,353 monographs and 9 magazine titles.

The collection can be divided into four sections:

Baccalaureate Books. It contains practically all books of high school maths published in Spain from 1938 until the 1970s.
Books from the first courses of technical careers in Spain from the first half of the 20th century up to the 60s.
Books of high French and Italian mathematical research (with some German copies) from the nineteenth and early twentieth centuries.
Some magazines among which there are some high-value editions.

Limit dates: 1811-1999

Date of incorporation: January 17th, 2014

Depository Library: Science and Technology Library

Where to consult the documentation: Science and Technology Library and Communication Library

Contact: Bib.Ciencia.Tecnologia@uab.cat