What are the differences between a master's degree and a graduate diploma?
What are the differencies between a master's degree and graduate diploma?
One of the most common questions received by UAB at students' fairs or via email can be summed up as: what is the difference between doing a "master's degree" or a "graduate diploma"? On this page we answer it.

University studies in Spain are spread over 3 cycles: the first cycle is the bachelor's degree; the second cycle is the master's degree/graduate diploma; the third cycle is the PhD.

In the following graphic you can easily see the difference between studies' levels and which terminology we use at the UAB to refer to the second cycle programmes: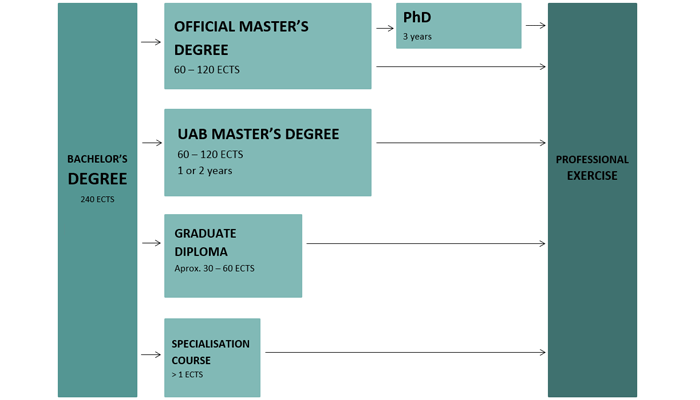 Within the second cycle, UAB imparts master's degrees, graduate diplomas and specialisation courses:

Master's degrees

Master studies are aimed at the acquisition by the student of an advanced training, specialized or multidisciplinary, oriented to academic or professional specialisation, or to the initiation in research work. Generally, masters' degrees have a strategic orientation that address one or various disciplines with a comprehensive approach.
Masters' degrees require 60-120 ECTS credits, usually completed in one or two academic years, along with the presentation of a final master's thesis. You must be holding a bachelor's degree or equivalent in order to be granted admission.
Master studies are composed of official master's degrees and UAB-specific master's degrees.
Graduate diplomas

A graduate diploma distinguishes itself by offering a high level of specialisation and/or update in a discipline or knowledge are more concrete than those of master's degrees, usually with a clear professional orientation.
The workload of these studies is inferior to those of master's degrees, generally between 30 and 60 ECTS credits.
A graduate diploma may grant admission to students without university degree, provided that when they finish the programme they will not receive a graduate diploma, but a certificate of achievement signed by the rector of the UAB.
Specialisation courses

Specialisation courses are designed to provide an even more specific and specialised training on a particular subject.
They are mostly short-term programmes with a training load that can range from 1 ECTS credit onwards.
They do not usually require a university degree for admission.

The terminology used to refer to second cycle studies may be different from one university to another, or in business schools and training centers of various kinds. Very often, the term "graduate" is used to refer to all studies beyond the undergraduate level. In some institutions they speak of studies such as "mastery", "specialisations", "experts", "continuous training" or "lifelong learning".
In summary, the main differences are:
The main difference between the second-cycle different studies is academic scope. Master's programmes are between 60 and 120 ECTS credits (1 to 2 academic years), while graduate diploms usually impart between 30 and 60 ECTS credits and specialisation courses offer training from 1 ECTS credit.
Master's degrees can be official or specific of the university. However, there are no official graduate diplomas or specialisation courses: all of them are always university-specific.
To access a master's degree it is necessary to be in possession of a university undergraduate degree or an equivalent title. Instead, to access a graduate course (graduate diploma, specialisation course...), the coordination of the programme may grant admission to students without undergraduate degree but with professional experience in the field.
More information:
Master's degrees and graduate diplomas