Glòria Escobosa, PhD, joins the Institute as Margarita Salas guest researcher
During her two-year stage, Gloria will carry out her research and teaching activity within the framework of the Research Group on the Psychology of Sport and Physical Activity (GEPE-UAB) and the Department of Musical, Plastic Arts and Corporal Expression, under the supervision of Dr. Maria Prat Grau.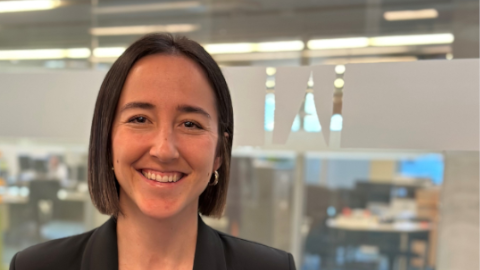 With my postdoctoral stay at the UAB, I would like to contribute to generate knowledge for developing new educational applications based on design research methodology
Glòria Escobosa Morera graduated in Physical Activity and Sports Sciences at INEFC Lleida and holds a Master's Degree in Compulsory Secondary Education and High School Teacher Training, Professional Training and Language Teaching at Universitat Ramon Llull, with a Specialisation in family and educational conflicts by UOC.
After living in the United States of America and getting deep technological knowledge, she obtained her PhD in Teaching and Training in Physical Activity, Physical Education and Sport at the Universitat de Barcelona. Her doctoral thesis entitled "Design, implementation and evaluation of a web app for physical education teaching staf in CLIL", focused on educational technology and was supervised by Dra. Teresa Lleixà and Dr. Joseph Coral.
During her stay at the Institute, Gloria wants to delve deeper into her PhD line on educational technology based on Content and Language Integrated Learning (CLIL) from a gender perspective and design-based research as a model for creating educational applications. This work will be developed within the framework of the consolidated research group, UAB Study Group on the Psychology of Sport and Physical Activity, under the supervision of Dra. Maria Prat. This context will facilitate the mutual exchange of knowledge.
The Study Group on the Psychology of Sport and Physical Activity (GEPE) is a consolidated group (2017SGR0751), with a pioneering career in the field of sport psychology. It is coordinated by Dr. Carme Viladrich. Research lines focus on lifestyle values ​​and promotion, sports careers, and motivation and emotions in sports.
The stay is funded through the call for the requalification of the Spanish university system of the Ministry of Universities, which aims to promote the internationalization of young doctors, encourage the mobility of teachers and attract international talent. In particular, Margarita Salas grants for the training of young doctors through contracts for stays at other universities.