Work in Progress
Event details
Start: 12 Mar 2021 13:00
Online
Jaume Sastre-Juan & Josep Simon Castel (IHC-UAB & IILP-UV): "Museos, aulas y política: Cultura científica Y tecnológica en la Transición". Click here to join the meeting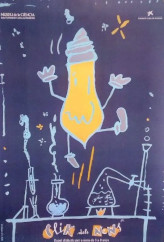 Illustration by Javier Mariscal to promote the "Clik dels Nens" of the Museu de la Ciència de la Caixa.
Abstract: In this paper we will present the ongoing research project "Museums, Classrooms and Politics: Scientific and Technological Culture in the Spanish Transition". Its goal is to analyze the role and transformations of "scientific culture" in the transition from the Francoist dictatorship. The several case studies of the project, which focus on the pedagogical and museological contexts, analyze the relationships between political regimes, regimes of display and the transformation of pedagogical practices in the teaching of experimental sciences. We will discuss the outline of the project in terms of theoretical framework and historiography, as well as possible futures lines of research.
Jaume Sastre-Juan is Serra Húnter Fellow at the Institute for the History of Science and the Department of Philosophy of the Universitat Autònoma de Barcelona. His research interests revolve around the intersection between politics and the popularization of science and technology. He has published about the politics of display at the New York Museum of Science and Industry in the interwar years; the interest of the Rockefeller Foundation in science popularization in the 1930s; the history of technological fun in amusement parks in Barcelona and Lisbon in the first third of the twentieth century; the banalization of nuclear technologies through display; and the political history of "interactivity" in science museums. He has also taught at the Universitat de Barcelona, the Universitat Oberta de Catalunya and the Universidade de Lisboa. He is the IP, together with Josep Simon, of the project "Museos, aulas y política: Cultura científica y tecnológica en la transición española" [PID2019-104897GA-I00].
Josep Simon is Ramón y Cajal Fellow at the Interuniversity Institute for the History of Science López Piñero and Chief Curator of the Museum of the History of Science and Medicine of the Universitat de València. He has taught as researcher, professor and teacher's educator in the UK, France, USA, Mexico, Colombia and Brasil. His research deals with the physical sciences and its teaching, with medical technologies, and with the historiography of science, technology and medicine. He is currently studying pedagogical innovation in Europe, the United States of America and Latin America during the Cold War, as well as gender, nationalism and internationalism in contemporary biomedical sciences, and the technology of electrocardiography and assisted breathing. He is the IP, together with Jaume Sastre-Juan, of the project "Museos, aulas y política: Cultura científica y tecnológica en la transición española" [PID2019-104897GA-I00].