Standard parking
Standard parking
This is the typical upside down U-shaped bars which let you chain up the wheel and the frame of your bike.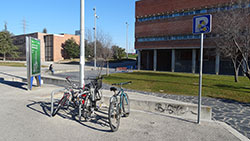 Location of cycle parking
On the UAB campus there are more than 20 of these cycle parking areas with more than 300 places. You'll find them at the building entrances, on footpaths and in streetlit areas.




How to lock up your bike
1. Always lock your bike up well, even if it's just for a moment.

When you are at home lock it up in the garage or storeroom and don't leave the keys lying around.

When you are in the street look for the most popular parking spaces so that the bike will be in full view and less vulnerable.

2. Use a good lock. Use one or two hard steel "U" locks or similar. Spiral or cable locks can be used to block the saddle and the wheels.

3. Make sure the bike is in good condition: check the tyres, brakes and lights.

4. If you buy a second hand bike ask to see the original bill. It may have been stolen.