The UABecedari, the first university dictionary video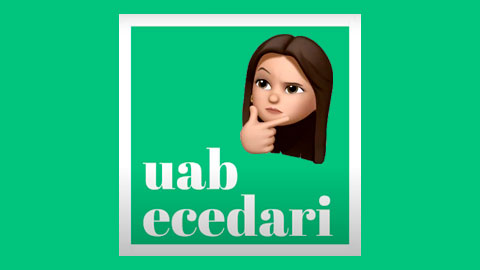 Student Bea Ruano explains some of the most common concepts related to the UAB in the UABecedari, a university dictionary in video format!
22/03/2021
Don't miss any of the words in the UABecedari, starting with U for University!
The UAB presents its first "UABecedari", the first university dictionary in video format! UAB student Bea Ruano will help future students and teachers and all those interested in better understanding the main concepts of universities, the UAB and its different teaching centres.
The dictionary is based on the idea of: one letter, one concept. In true YouTuber style, Bea explains to viewers in under 5 minutes curiosities, facts and information to get you into a UAB mood. Each video will be dedicated to a new letter, to help you discover our university from within... from one UABer to another future UABer!
The first video can already be viewed, and is dedicated to the letter U of university. Visit the channel often and don't miss out on any of the letters... or you can subscribe to our YouTube channel!
The current pandemic has not allowed us to invite future students to discover the UAB campus and its faculties in person during this year 2021, in activities such as Open Days and Family Days. That is why we are offering many of them online, such as the Bachelor's degrees online fair and the Virtual campus visits with Sandra Lleida and Anna Ventura, to be able to share with new and future students a fresh and entertaining view of our campus so that you can become familiar with it thanks to the people who know it best, our students! So have fun and come discover our campus with us!
More information for those who want to become UABers:
T'esperem a la UAB
UABecedari
Visites al Campus amb la Sandra Lleida i l'Anna Ventura