The Charter&Code for researchers and funders
Introduction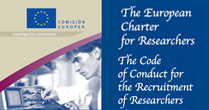 In a communication from March 2005, the European Commission adopted the European Charter for Researchers and the Code of Conduct for the Recruitment of Researchers, and recommended its implementation in the Member States. These two documents are aimed at researchers as well as hiring institutions, and are key elements in the policy of the European Union to make research an attractive career, which is an essential feature of its strategy to stimulate economic growth and employment within the EU.

The European Charter for Researchers addresses the roles, responsibilities and rights of researchers and their contractors. Its aim is to ensure that the relationship between the parties contributes positively to the process of creating, transferring and sharing knowledge and to the professional development of researchers.
The Code of Conduct for the Recruitment of Researchers aims to improve recruitment, and ensure that selection procedures are fair and transparent. It proposes several means of evaluating merits, taking into account not only number of publications, but a wider range of evaluation criteria, such as teaching, supervision of people, teamwork, knowledge transfer, management and scientific outreach.

Download The European Charter and Code for Researchers