The UAB's SAF participated in the Active Campus Europe project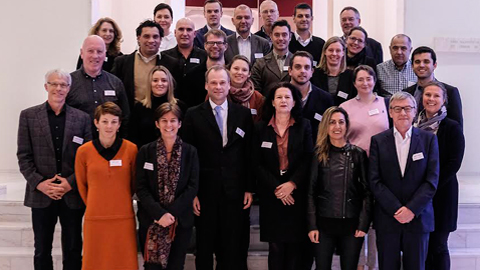 The ACE project, funded with a grant by the European Union under the Erasmus+ programme, will last two years and will be implemented in 2017 and 2018. This is the first Erasmus+ programme focusing on a subject related to physical activity at university.
07/02/2017
The UAB is one of the 16 universities chosen to collaborate in the Active Campus Europe (ACE) programme. Through its Physical Activities Service (SAF), the UAB participates in this programme coordinated by the RWTH Aachen University in Germany. The programme has the objective of drawing up a plan at European level to foster physical activity among members of the university community who lead sedentary or scarcely active lifestyles, and also work on creating healthy universities.

The ACE project's main objective is to help increase the daily physical activities carried out in university workplaces and classrooms. The programme is addressed mainly to students, but is also open to other members of the university community, such as administration and services staff and faculty members.

ACE aims to foster healthy university campuses, with a strong focus on physical activity and improvement of the dietetics and mental health of students. In order to meet this goal, a set of good practices will be collected, and then printed out in a manual and made available on the internet.

The project includes the participation of 16 universities who will be working together for two years. Germany, Ireland, the United Kingdom, the Netherlands, Portugal, Finland and Spain are the seven countries participating in the project. In the case of Spain, member universities are the Universitat Autònoma de Barcelona and the University of Vigo.

The ACE project was presented on 24 January at the Provincial Government Building in Maastricht, in the Dutch province of Limburg, which included the attendance of all 16 member universities.
Related news
We encourage you to participate in this year's activities to promote open education
Last February 11th, to celebrate Women in Science Day, the Institut de Neurociències and the Unitat de Cultura en Viu de la UAB organized the online screening of the documentary Picture a Scientist
View all news