The UAB's International Welcome Days take place this week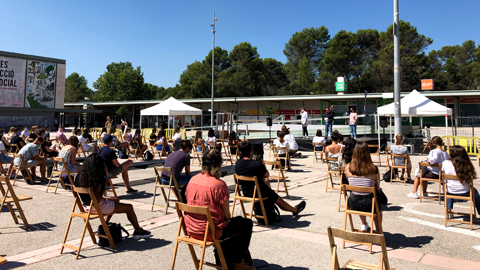 The UAB's International Welcome Days (IWD) will once again take place from 14 to 18 September. The aim of these sessions are to welcome our new international students arriving to the UAB in this first semester.
09/09/2020
The International Welcome Days (IWD), organised for those international students arriving in the first semester of the year to the UAB, is taking place from 14 to 18 September to help all new students become familiar with the university. The idea is for students to discover the campus, its services and associations, and provide a place to meet other local and international students.
Sessions begin at 1 p.m. on Monday 14 September, with a welcoming message from Màrius Martínez, Vice Rector for International Relations at the UAB. Several on-site and online acitivites have been organised by the students' associations and services and will be held througout the week.
Due to the current healthcare crisis, this year's activities include all necessary safety measures. Some will be offered online, and those interested in participating in the activities taking place on campus will need to sign up beforehand.
The week's activities will include Catalan beginners' lessons, organised by the Language Services; a talk on the UAB's harassment protocol by the Observatory for Equality; and sessions to help discover new languages by the Tàndem association. With regard to students associations, international students will discover the activities conducted by the associations in the IWD Online Fair, while the Erasmus Student Network (ESN) will offer a presentation of its organisation and the activities it will offer throughout the semester.
Click on the link to find the full programme and registration forms.
Related news
We encourage you to participate in this year's activities to promote open education
Last February 11th, to celebrate Women in Science Day, the Institut de Neurociències and the Unitat de Cultura en Viu de la UAB organized the online screening of the documentary Picture a Scientist
View all news