The UAB encourages students to collaborate in a research project on an extremely rare childhood disease
The UAB's crowdfunding platform recently launched a campaign entitled "1 estudiant, 1 euro", addressed to undergraduate students interested in donating to a research project conducted by the Gene Therapy for the Central Nervous System research group. Donations will go towards finding a treatment for a rare disease affecting only 45 children in the world. One of these children is Abril, who lives in Spain and is 5 years old.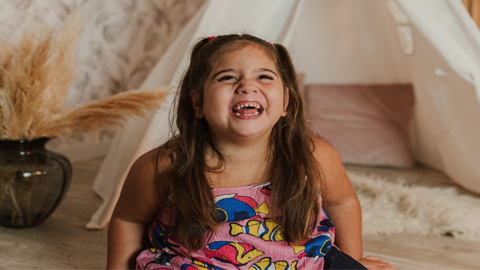 Spastic paraplegia 52 (SPG52) is an extremely rare genetic disorder caused by a defect in the gene AP4S1. At the moment there is no cure for it. Nor are there any drugs that can palliate its effects, which are cognitive deficiencies, speech disorders and possible epilectic attacks. These symptoms appear in very early ages and this is why it is important to find a treatment which can be used in the first stages of life, before the disease has time to develop significantly. This rare genetic disease affects only 45 children in the whole world. One of these children is Abril, who is five years old and lives in Badalona.
The UAB research group in Gene Therapy for the Central Nervous System led by Miguel Chillón, ICREA researcher at the Institute of Neuroscience (INC-UAB) and at the Vall d'Hebron Institute for Research (VHIR), is currently conducting a research project in collaboration with the association "La lucha de Abril", created by Abril's parents in hopes of finding a cure for SPG52.
The project began in 2019, alongside a crowdfunding campaign to reach the amount of money needed to conduct the research. Since then, researchers have made advances in several aspects of the research with in vitro models and in the production of therapeutic vectors aimed at correcting the defective gene causing this disease. And now the first in vivo study will be carried out as a first approach to determine the effectiveness of the treatment and, above all, its safety.
The UAB's crowdfunding platform has launched the "1 estudiant, 1 euro" ["1 student, 1 euro"] campaign to encourage undergraduate students to collaborate in this important research project with their donations.
Good health and well-being