Exhibition on neuromarketing at the UAB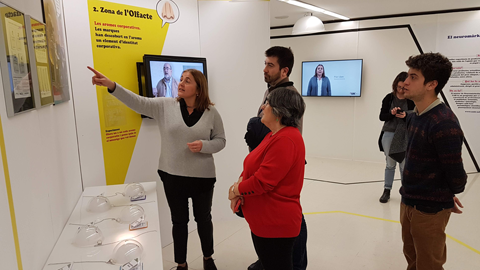 The exhibition "Neuromarketing: science, business and advertising. I can't get it out of my head!", commissioned by the director of the UAB master's degree in Neuromarketing, Professor Pere Navalles, will be on display at the Exhibitions Hall of the Communication Library and General Newspaper Archives until 15 February.
10/01/2019
Pere Navalles: "The exhibition is my way of answering a lifelong professional obsession of mine to give meaning to the physical reactions which help us remember a sensation."
At the exhibition's inauguration on 10 January Vice Rector for Institutional Relations and Culture Carlos Sánchez highlighted the vast amount of research put into the contents of the exhibition, while at the same time emphasising the "interdisciplinary character" of an initiative in which advertising agents and various businesses and institutions also collaborated.

María José Recoder, Dean of the Faculty of Communication Studies, pointed out the fact that the contents of the exhibition were special because they "speak to us" insofar as they refer to personal experiences, and permit "learning a lot about our own reactions".

Professor Pere Navalles, director of the exhibition, explained that the exhibition was the result of "a lifelong professional obsession" to "give meaning to the physical reactions which help us remember a sensation", sometimes even after many years have passed.

The exhibition, which can be visited until 15 February, focuses on the history of neuromarketing techniques through the five senses (smell, touch, taste, hearing and vision). It consists of diffent areas dedicated to each of the senses, with practical experiences, audiovisuals and examples of neuromarketing applications (i.e., users are able to touch, smell, hear, see, etc. the exhibit and understand its application).