"We need to improve language teaching if we want Catalonia to be competitive"
Kieran Donaghy, lecturer at UAB Idiomes, is the creator and promotor of Film English, an innovative web addressed to teachers which uses films to teach English. In the past few months, he website has received several European awards. Donaghy is one of the best experts in the world in using images in movement as a language teaching tool.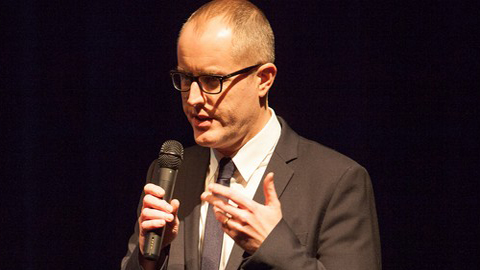 -How did Film English come about? How did you get the idea for a website with lesson plans for teaching English inspired by videos and films?
Film English was created as there was a lack of resources which promote the creative and innovative use of moving images and especially short films in language learning. I also wanted to create material which could encourage students to learn English through the discussion of contemporary issues and values. Film English is the first language learning resource site to use short films critically and creatively and to promote cineliteracy – the ability to analyse and interpret moving images – in the language classroom.
In the twenty-first century, the ability to interpret and analyse moving images is an integral part of literacy. The approach of Film English is to see film as a legitimate means to enhance 21st-century literacy. For young people to participate fully in our society and its culture means to be as confident in the use and understanding of moving images as in the printed word. Both print literacy and cineliteracy are essential aspects of literacy in the twenty-first century. The short films used in Film English, because of their brevity, creativity and innovation, are the perfect medium through which to promote cineliteracy. Film English attempts to help students to enjoy, analyse, understand and learn English from moving images.
Film English is a resource bank containing over 120 lesson plans for teachers designed around moving images, especially short films, and it is highly practical colourful, fun and meticulously organised. The site is user- friendly, intuitive and uncluttered. Resources are designed for elementary to advanced learners. All of the lesson plans are detailed and ready-made for the busy teacher. The lessons are categorised by topic, level and age appropriateness and include homework and follow-up activities. All of the short films and worksheets are embedded right into the lesson, meaning that teachers don't need to download videos or worksheets; they can show the entire lesson through a data projector. However, if teachers prefer, they can download the lesson instructions and worksheets in PDF format. There is a glossary of common film terms and links for teachers and students to film related sites.
-
Through Film English you're helping English language teachers with their work in a completely altruistic manner. What "reward" do you receive for all the work and dedication it takes you to write these materials?
Film English is completely free as I want as many teachers as possible to be able to use the lessons. Teachers are normally quite poorly paid and it would be difficult for them to afford to pay for contents. The lessons are used by teacher all over the world, and in many countries the teachers have very limited resources so I like to offer them my resources for nothing. I don't accept any advertisements on the site as I want teachers to have a clean aesthetically pleasing experience when they come to the site. The site costs me a lot of money to maintain as I have to pay for web and graphic design and hosting, and it takes me hundreds of hours a year to write the materials. The main prize for me is the gratitude I get from teachers throughout the world who tell me that the materials really help them and their students and they are inspired by the lessons. The success of the site also opens up certain doors to me; I'm regularly invited to be a plenary and keynote conferences, as well as being asked to write books related to film and education which are my two main passions.
-Can this methodology be used with other languages? Do you know of any other website similar to Film English?
As a lot of the films I use are silent they can be used with other languages. Another Barcelona-based teacher, Jamie Keddie, has an excellent site called Lessonstream http://lessonstream.org/which has free lessons designed around videos for language teachers.
-As an English teacher in Barcelona, to what to do attribute the low level of English people have here? They say the low level is due to the fact that primary and secondary school teachers have a low level of English, do you agree?
It's always easy to blame teachers for all the failings in our educational system. The vast majority of teachers in state schools are doing a very good job in extremely difficult circumstances. The biggest problem in education in Catalonia at the moment is that over 30% of students are leaving secondary school with no qualifications. Something radical has to be done to change this situation, little tweaks won't work, the whole educational system has to change. However, the approach to education of politicians, parents and society in general is very conservative.
With regard to language learning, language study has to be connected to the global economy, but this has been overlooked by national and local governments. We need better language education if we want Catalonia to have a globally competitive workforce. Multilingualism isn't valued nearly enough by politicians and society in general in Catalonia. We need to stimulate a culture of innovation in education by giving teachers and learners more freedom to explore and express themselves. There needs to be far greater funding for language learning. However, even more importantly language learning and multilingualism need to be valued more in Catalan society. Another important change is for films and television to be shown in English and not dubbed into Catalan or Spanish.
-How should digital technologies be used to help to help improve language learning?
I am a firm believer in the power of digital technologies and the Internet. I encourage students to use various technologies to create, explore and think critically. We have a great opportunity to use digital technologies and the Internet in creative and innovative ways to engage and entertain language students. Students can improve their vocabulary, listening, and speaking using innovative and interactive websites such as
English Central
.