UAB documentary on prehistoric ceramics continues to win international awards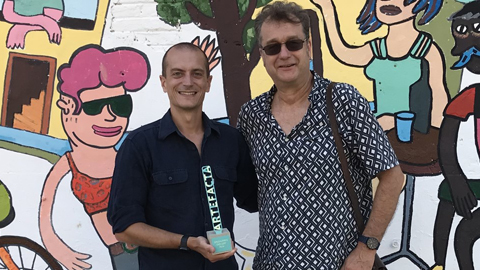 ARTEFACTA (International Festival for Audio-visual Representations of Archaeology Cultural History and Art) is the new name of the CINARCHEA FESTIVAL, considered the oldest and most important archaeological film festival in Germany. The UAB documentary was chosen from a total of 28 films for the special jury prize of this year's edition of the festival, which was celebrated after a two-year pandemic hiatus.
The festival's award is the latest in a growing number of prizes the documentary has received, such as two special mentions from the jury of the Rassegna Internazionale del Cinema Archeologico di Rovereto, Italy, in 2020, and the jury of the Festival International du Film d'Archéologie de Nyon, Switzerland, in 2021.
"The diffusion of the documentary is more successful than we ever expected it to be. We are very pleased to be able to share it with the UAB community", says Marcello Peres, Margarita Salas postdoctoral researcher at the Department of Prehistory and co-director of the documentary, alongside Roberto Risch, lecturer of the same department and member of the ASOME Group, as well as scientific coordinator of the CRAFTER (Crafting Europe in the Bronce Age and Today) project under which the documentary was made.
The documentary can be viewed on the UAB's YouTube channel.