Tourism students participate in a competition for the best hotel management school in Europe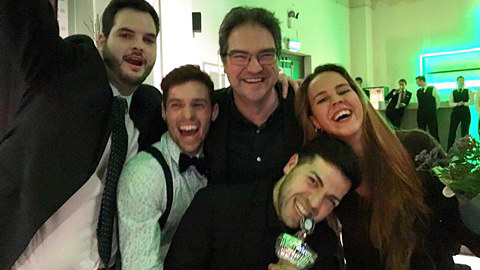 The team from the UAB's degree in Tourism and Hotel Management won second place and also received the "Best Presentation Video" and "Best Networker" prizes in this tenth edition of the European Mise en Place Cup. The competition included the participation of 33 schools and took place in Maastricht on 18 and 19 February.
23/02/2018
Representative of the School of Tourism Dana Gómez, César Mulet, Alejandro Gallego and Albert López won second place in the European Mise en Place Cup (EMCup 2018) which took place in Maastricht, the Netherlands, on 18 and 19 February.

The school's team, accompanied by Professor Albert Vancells as trainer, also won the prize for "Best Presentation Video" with its Embrace High Tech and Enhance High Touch video clip. The video, which formed part of the pre-competition phase assignments, was to be created with the aim of shaping the brand and vision of the group with regard with this year's competition motto: "High Touch vs. High Tech". In addition to this prize, one of the team delegates, César Mulet, was awarded the prize for "Best Networker".

The tenth edition of the competition, in which 33 schools participated, required participants to complete several tasks distributed along different phases, such as in the first phase, in which influence was to be created through social networks or on paper, and develop an idea on the emergence of new technologies in tourist accommodation and businesses. The second phase of the competition, which took place in Maastricht, consisted in presenting the proposals and debating on innovation in the tourist sector.

This year the School of Tourism and Hotel Management of the UAB improved its results at the EMCup competition, up from the third and fifth place it had been awarded in previous editions.