Second period of the UAB Barcelona Summer School 2022 begins today
A total of 310 persons from 39 different nationalities will be taking part in one of the 13 courses offered by the UAB Barcelona Summer School during the next 3 weeks of July. This edition is offered 100% on campus and students will also be able to enjoy participating in social activities under the Buddy Programme.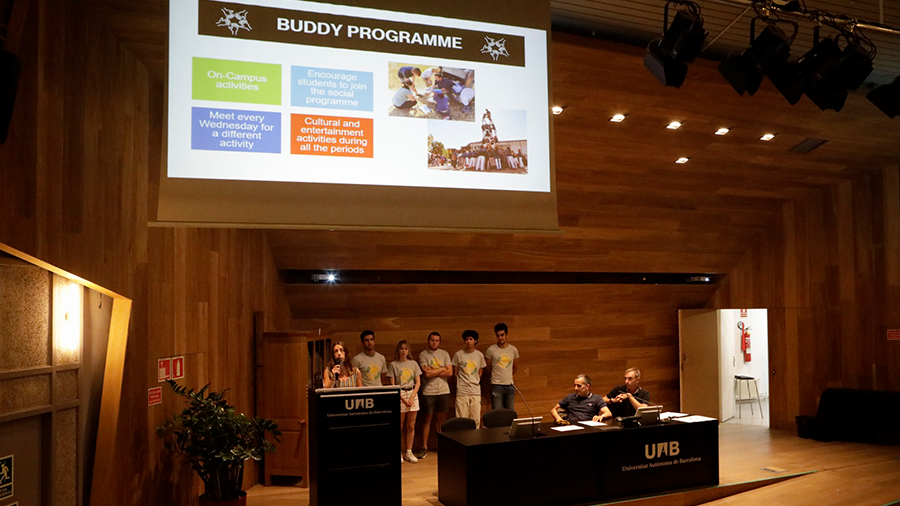 Students from the UK, USA, the Netherlands, Egypt, Mexico, Canada, Singapore, Australia, and South Korea have enrolled in the UAB Barcelona Summer School.
On Monday 11 July, the UAB Summer School welcomed its 310 students participating in the second session courses in an event which began at 9 a.m. at the Auditorium of the Faculty of Arts & Humanities.
Vice Rector for International Relations Màrius Martínez, who was in charge of inaugurating the event, summarised the importance of this programme for the UAB and gave a few tips to students to help them enjoy their stay to the maximum.
following his speech, academic coordinator of the UAB Barcelona Summer School, Graham Mortyn, told students what this second session of three-week courses consisted of.
Queralt Coll, from the Area of International Relations, also spoke to explain a bit about the Buddy Programme, through which local students accompany newcomers in a series of activities and challenges they will face with the objective of encouraging students' social participation in this academic summer programme. Students interested in participating must sign up for the activities.
For more information please visit: UAB Barcelona Summer School
Quality education