Palaeographer and UAB honorary doctor Jean Vezin passes away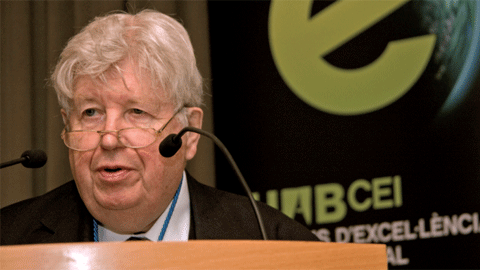 Jean Vezin recently passed away. He was one of the main experts in palaeography of the upper Middle Ages and a driving force behind the study of codicology. He was awarded an honorary doctorate by the UAB in 2010 after being proposed for the award by the Faculty of Arts and Humanities.
07/09/2020
The UAB mourns the death of French palaeographer Jean Vezin. He was an honorary doctor of the UAB and one of the founders of codicology studies, a science focusing on the external characters and composition techniques used in composing manuscripts and the first printed books. The UAB wishes to express its most sincere condolences to all those who knew and loved him, and is deeply affected by this loss.
Dr Vezin was proposed for the honorary doctorate by the Faculty of Arts and Humanities for his contribution to the studies of palaeography, codicology and diplomacy, particularly in the 5th to 12th centuries, and for his attention focusing on the scriptures, codices and diplomas of the Iberian Peninsula. The ceremony took place on 27 October 2010. Dr Vezin gave a master class on the Latin manuscripts found in Saint Catherine's Monastery situated on Mount Sinai in Egypt, essential documents related to "the persistence of Christianism at the end of the 11th century, in the land of Tertullian, Saint Cyprian and Saint Augustine", according to Dr Vezin.
He was sponsored by Professor Jesús Alturo, Chair Professor in Palaeography, Codicology and Diplomacy at the UAB, who affirmed that: "by reviving the memory of so many books and diplomas, of so many papyrs and epigraphs, Vezin brings back to life cultural traditions that had disappeared, but were not dead; hidden or forgotten, but not inactive, because they are the ones that conform our spirit as we know it today".