New teeth whitening system developed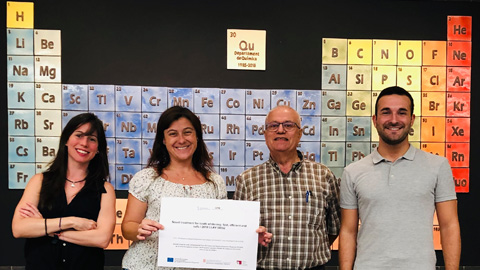 The research team of the
Group of Separation Techniques in Chemistry (GTS)
at the UAB has developed FlashWT, a new teeth whitening system based on an innovative, quick, effective and enamel safe formula. The system, created for the grants call from the AGAUR's Industry of Knowledge 2018, the system's patent is now being processed.
30/10/2019
The active ingredients included in the majority of whitening treatments on the market are hydrogen peroxide and carbamide peroxide. Both ingredients are oxidizing agents and can cause side effects, such as hypersensitivity or irritated gums, due to the high concentrations and long application times.

"The system we have developed contains a different action mechanism based on the mixture of two ingredients and offers substantial advantages with regard to current products. It needs lower concentrations of chemical products, it acts quicker and more effectively, with shorter application times and safer for teeth enamel", states Manuel Valiente, professor of the Department of Chemistry and director of GTS.

In addition to Dr Valiente, participating in the development of FlahsWT were Dr María Jesús Sánchez, post-doctoral researcher and the project's leading scientist, as well as PhD students Clara Babot and Jorge Rodríguez, who took care of the experimental stage of the project. The project also included a business mentor, Dr Carlos Muñoz, Director of Clinical and Innovation Affairs of the dental products company Kavo Kerr LLC, with headquarters in California.

The project was created within the framework of the grants call for the Industry of Knowledge 2018, AGAUR (Llavor modality). It was co-funded by the European Regional Development Fund (ERDF) of the European Union as part of the ERDF Catalonia Operations Programme 2014-2020, with support from the Secretary of Universities and Research of the Ministry for Business and Knowledge of the Government of Catalonia, with an economic aid of €20,000.