María José Romero, UAB graduate in Biomedical Sciences, guest speaker of an international UAB Session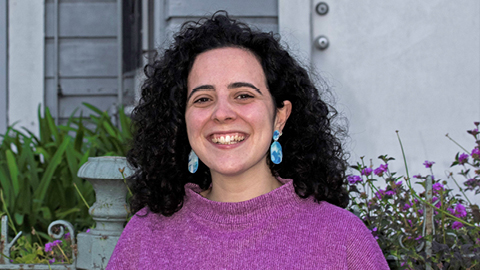 Romero is an entrepreneur who participated in the UAB-Emprèn programme. She will be sharing her professional experience with UAB students online from Copenhagen, where she is involved in several projects linked to computational biology. This virtual session is free and exclusively for UAB students, and will take place on Wednesday 23 November at 1 p.m. on Microsoft Teams.
14/11/2022
An international UAB Session from the capital of Denmark
María José Romero, UAB graduate in Biomedical Sciences and entrepreneur from the UAB-Emprèn programme, will be the guest speaker at the next UAB Session, in this case streamed online from Copenhagen. Organised by UAB-Emprèn, the UAB Sessions are free training sessions exclusively for UAB students that allow them to discover first-hand the experiences of entrepreneurs and broaden their skills in idea generation and entrepreneurship.
After studying at the UAB, Romero travelled to Copenhagen, where she enrolled in the Master of Science programme in Bioinformatics and is involved in several projects related to computational biology. There she also collaborates in a non-profit organisation to bring closer the universitary sector and the industry of Biosciences and favour a more fluid transaction between academic studies and the professional world. In addition, this year she particiapted in a five-month long research project at a start-up in Silicon Valley belonging to the Biosciences field as part of the International Innovation Project Program (2IP).
During her years studying at the UAB, Romero participated very actively in the UAB-Emprèn programme, and won several competitions in 2019. She was the winner of the first edition of the Emprèn Pitch competition with her project "BioPharma", and also winner of the UAB Reptes and STARTUP LAB UAB competitions with her project "Green Granja".
With the aim of encouraging other students to have an entrepreneurial spirit and foster the generation of ideas among UAB students, Romero will talk about her experience and chat with members of the online session.
All those interested can fill out this form. The day before the UAB Session, all those signed up to attend will receive a link to the Microsoft Teams meeting.