List of study grants for refugee university students announced
Twenty young refugee-seekers will be awarded a study grants to continue their studies at the UAB. A total of 15,500 euros will cover these study grants thanks to the collaboration fo the Caixa Enginyers Foundation and the donations to the "Emergència Ucraïna" crowdfunding campaign.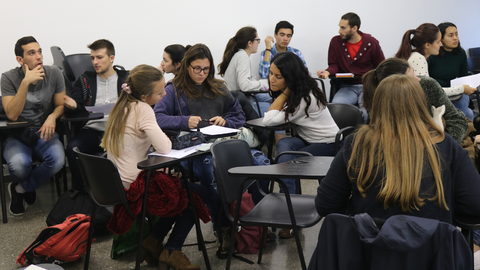 Les Beques #UABRefugi són una iniciativa del Programa d'acollida de persones en cerca de Refugi a la UAB gestionat per la Fundació Autònoma Solidària. Des del 2016, any de naixement d'aquest programa, la UAB s'ha convertit en un campus d'acollida que dona suport a persones amb necessitat de protecció internacional. Per al curs 2022-23, 34 estudiants en situació de refugi han obtingut una beca per iniciar o reprendre la seva formació universitària a la UAB.
L'alumnat en cerca de refugi i/o circumstàncies anàlogues afronta obstacles majúsculs a l'hora de reprendre i continuar els seus estudis universitaris a causa de la situació de vulnerabilitat social, administrativa i econòmica que implica el desplaçament forçós. És per això que són necessaris aquests ajuts a la beca que complementen la matrícula gratuïta i sufraguen les despeses relacionades amb els seus estudis com són els desplaçaments, material, tecnologia o altres despeses necessàries per a la formació acadèmica.
La convocatòria, de la qual s'han beneficiat 20 estudiants, ha estat cofinançada per la Fundació Caixa d'Enginyers amb una aportació de 10.000 euros i per les aportacions econòmiques voluntàries de persones de la comunitat universitària i institucions UAB a través de la seva participació a la campanya de micro-mecenatge "Beques #UABRefugi Emergència Ucraïna". Un any més, la Fundació Caixa d'Enginyers ha refermat el seu compromís amb l'accessibilitat universitària d'estudiants en situació de refugi fent possible l'obertura de la convocatòria d'ajuts a l'estudi UAB Enginy al curs 2022-23.
De les persones beneficiàries 9 són estudiants de grau, 9 màster i 2 doctorat, 6 són dones i 14 homes.
Campanya Beques #UABRefugi Emergència Ucraïna
A inici d'aquest curs, davant l'esclat del conflicte bèl·lic a Ucraïna, la UAB va refermar el seu compromís amb les comunitats acadèmiques refugiades i es va atendre a alumnat afectat pel conflicte a través d'una convocatòria d'ajuts extraordinaris. També va ampliar el pressupost de les beques #UABRefugi per fer possible que més estudiants en cerca de refugi d'arreu poguessin reprendre estudis el curs 2022-23.
En aquesta línia, al maig, s'inicia la campanya de micromecenatge "#UABRefugi – Emergència Ucraïna" per implicar tota la comunitat UAB en el suport a les poblacions universitàries afectades per la guerra.
La campanya ha comptat amb la implicació de la comunitat universitària i d'institucions de la UAB. 75 donants, la gran majoria del PDI i PAS de la UAB, han aportat a les beques 5.710 euros. Institucions com el SAF, Alumni o la Fundació UAB han tingut també una col·laboració clau en la campanya.
Reduced inequalities
Peace, justice and strong institutions