Joan David TÓbara, appointed to European Commission mission boards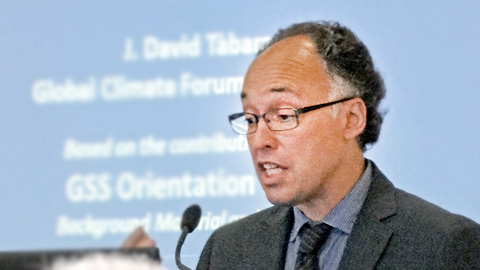 Tàbara, researcher from the ICTA-UAB, is one of the high-level experts selected by the European Commission to form part of the mission boards to work on five major European missions of Horizon Europe, the next EU research and innovation programme (2021-2027).
05/11/2019
The Commission has set up five mission boards, one for each mission area that will help specify, design and implement missions in Horizon Europe. The missions focus on cancer, climate change, healthy oceans, climate-neutral cities and healthy soil and food.
In addition, an assembly has been established for each mission by gathering a larger number of high-level experts. These assemblies provide an additional pool of ideas, knowledge and expertise that will be actively called upon to contribute to the success of the five missions.

Dr. Joan David Tàbara has been selected as member of the assembly of the mission board for Adaptation to climate change including societal transformation. With their vision and knowledge, these first-rate experts will help making missions a success, inspiring citizens and showing them what Europe, and research and innovation, can do about the issues that matter most to them.

Over 2100 individuals from across the EU and beyond applied to become members of a mission board. The selection process ensured that the boards are composed of creative and highly motivated experts from a wide range of backgrounds, including academics, innovators, civil society, industry, finance and end-users.

J. David Tàbara is sociologist and economist, member of the Global Climate Forum. He is associate senior researcher working on knowledge integration for sustainability at the ICTA-UAB. He is also member of the Quality Research Group on Water, Land Use, Tourism and Sustainability at the UAB Department of Geography, and member of the Board of the Catalan Experts' Group on Climate Change. He has lectured on environmental sociology, integrated assessment methods and public participation in sustainability science.

He has published extensively on socio-environmental science and participatory knowledge integration methods, with particular attention to the issues of public perception, social learning, communication and public engagement for sustainability.

The mission boards will be implemented in two phases. During the first phase, the main task of the mission boards will be to advise the European Commission on the identification and design of one or more possible specific missions, with their respective objectives, indicators and timelines, from the five mission areas. They will do so in dialogue with Member States and the European Parliament, as well as relevant stakeholders and, as appropriate, the interested larger public. The European Commission will make the final selection of specific missions in accordance with the procedures established for Horizon Europe.

In a second phase, and once the Horizon Europe framework programme and its budget is formally agreed upon, the mission boards will advise the European Commission on the portfolio of research and innovation activities needed to support the missions' objectives.