Inauguration of the Observatory for Coexistence and Civility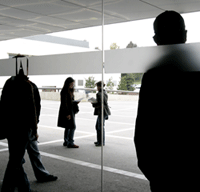 The main offices of the Institute of Political and Social Sciences (ICPS, Carrer Mallorca 244) in Barcelona will host the presentation of the new Observatory for Coexistence and Civility (Observatori de la Convivència i el Civisme a Catalunya)on 4 March at 5 pm. The project was created by the UAB-affiliated institute, together with the research group on freedom, safety and state transformations (LTSE-Group).
28/02/2014

The mission of this new observatory is to conduct an analysis of what cilivity, and the lack of it, implies as well as how values influence and intervene in the development of society's daily practices in public spaces. In this sense, it aims to study the existing conflicts and find applications which can help those involved in improving levels of coexistence, ranging from policy makers to mediators.

The opening speech at the presentation of the observatory will be given by Joan Marcet, director of ICPS and lecturer at the UAB. Following the speech, Joan Lluís Pérez Francesch, head of the LTSE Group and professor in Constitutional Law, will be in charge of explaining the project.

Before ending the presentation with an open debate, Joan Botella, dean of the UAB Faculty of Political Science and Sociology, will give the closing speech. Participating in the debate session will be Josep M. Lahosa, as representative of the Barcelona City Council; Fernando Pindado, expert in citizen participation; Xavier Pastor, lecturer at the University of Girona and Francesc Xavier Altarriba, from the Security and Defense Corporate Area (ECOSED).
More information: Presentation of the Observatory for Coexistence and Civility