'Com al Cel, a la Terra', exhibition on the sculptural works of the UAB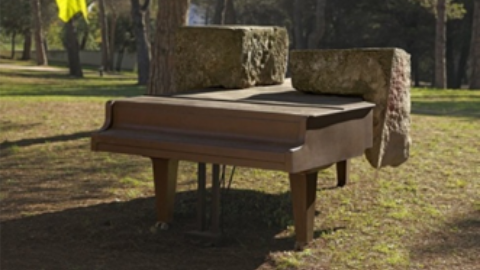 The sculptures on the campus are not casual or unconnected to each other. The space of the Autonomous University of Barcelona conceals an interesting artistic heritage. "Com al Cel, a la Terra" is an invitation to an exhibition of sculptures without sculptures, a tour of absent works in which you will find a hidden meaning and a series of signs that you will discover along the journey.
The exhibition divides the university's heritage into an itinerary of four areas that highlight certain universal themes: Heaven, with the most highly symbolic pieces, which speak to us of knowledge, memory and community; Earth, which encompasses all those works that are included in the more spatial dimension, in direct contact with the ground we walk on; and the third area, Union, where we reflect on the idea of the alliance between the spheres: Heaven and Earth. The exhibition closes with the area Institution and everyday life, which shows the use made of the university's artistic heritage from an institutional perspective and in the day-to-day life of the campus.
Through the works selected from the campus, the relations of power, union and community that derive from them are analysed. The most important objective of the exhibition is to bring campus art to the university community in a way that is both understandable and attractive.
The presentation will take place on Thursday 9 June 2022 at 12.45 p.m. by the curatorial team of the exhibition and the academic authorities, with the attendance of the Vice-Rector for Communication and Culture, Virginia Luzón. "Com al cel, a la terra" can be visited from 2 June to 7 October 2022 from 10 a.m. to 6 p.m., except during the summer holidays.