Analysis of ceasefires during the pandemic by the School for a Culture of Peace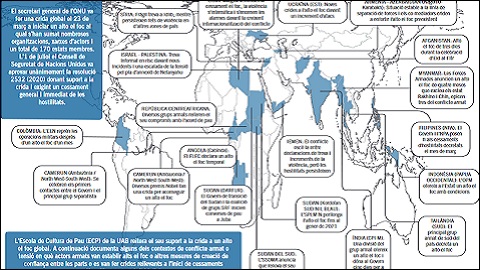 A report by the School for a Culture of Peace explains which conflicts have seen dialogue and ceasefires during the pandemic, and which have continued with violence. Another new report from the school describes the arms trade between Europe and Israel.
17/07/2020
The Uab's School for a Culture of Peace recently published its report on the cessation of hostilities in times of COVID-19 (Cessaments d'hostilitats en temps de COVID-19), which reflects upon different initiatives involving dialogue and ceasefires in a variety of conflict particularly in Asia and Africa, as well as those maintaining a level of hostility despite the pandemic, such as Lybia and Yemen, both markedly internationalised conflicts.
Since March, the United Nations has been demanding that current active conflicts be put on hold while the world deals with the COVID-19 pandemic. The report covers situations of armed conflict or tension which, from April to July, have changed due to a ceasefire or the beginning of some type of peace negotiation.
In the African continent, there have been dialogues between sides in different conflicts, such as those in Cameroon or Sudan, and ceasefires in Angola and South Sudan. In contrast, the situation is extremely severe in Lybia, where violence has intensified and the conflict has become internationalised. In Asia, different types of ceasefires have been put in force Afganistan, the Philippines, India (in conflicts with Maoist groups), Indonesia, Myanmar and Thailand.
Only one annotation points to the American continent to explain that the Colombian National Liberation Army, the ELN, has returmed to its military operations after a month-long ceasefire. And in Europem violence is maintained in two conflicts mentioned in the report: in eastern Ukraine and in Nagorno-Karabakh. In the Middle East, the report focuses on the hostilities in Yemen as well as the precarious situations of ceasefires in Syria (Idlib) and in Palestine-Israel.
Arms trade with Israel
In fact, the report has been published as part of the latest edition of the school's series of notes on conflicts and peace (Apunts ECP de Conflictes i Pau), which also includes the report on arms trade with Israel (¿Momento decisivo? La importancia de frenar el comercio europeo de armas con Israel), created under the framework of a joint project with the Delàs Centre for Peace Studies and the Institute for Human Rights of Catalonia.
This report contextualises the current situation of the conflict within the annexation plans for the West Bank announced by the Israeli government to explain the dynamics of arms trade between European Union member states and Israel, and the different local and international regulations behind it.
This information is related to the following SDG
Peace, justice and strong institutions