Infoparticipa Map wins this year's International Raga Award
The Infoparticipa project, run by the research group Comunicació Sonora, Estratègica i Transparència (ComSET) at the UAB, will be awarded the "Raga Internacional" award on 7 December in Santiago, Chile.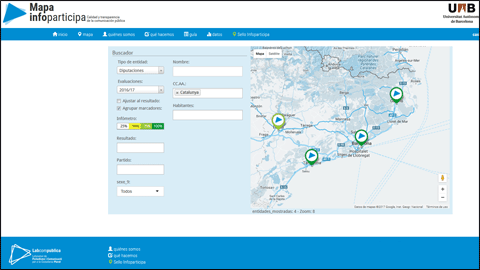 The International Open Government Academic Network (Red Académica de Gobierno Abierto Internacional, RAGA) of Chile confers its International RAGA Award to entities fostering the generation of collaboration spaces at local, regional and global level in the academic sector, and the creation of proposals for institutional and citizen openness, transparency, access to information and accountability. This year's award will be given to the Infoparticipa Map project as an example of good practice at the Iberian-American level, within the area of open governance and sustainability. The RAGA considers it "a practice other national and international academic sectors should take into account to develop actions inspired in these or even improved actions, to reach a more open contet, multiagent collaborations and regional sustainability".
The Infoparticipa Map is a tool launched by the Laboratory of Journalism and Communication for Plural Citizens (LPCCP) at the UAB, a research group directed by Armand Balsebre, professor in the Department of Advertising, Public Relations and Audiovisual Communication. This tool is used to analyse the information offered by the websites of the 947 town councils in Catalonia with the objective of fostering the transparency and quality of the information provided by local governments. The results of the analysis are introduced into the platform through a content manager that automatically publishes the results georeferenced on a Google map, with the percentage reached by each website and its translation in colour.
After 2013, the LPCCP launched the Infoparticipa Seal to award city councils with the highest number of positive indicators. Since the creation of this seal, the results improved in comparison to the previous edition due to the fact that more city councils received this seal.