Marina Sánchez Calleja: "Soon doctors will be prescribing applications"
Interview with Marina Sánchez Calleja, speech therapist, entrepreneur, researcher at the clinical trail start-up Trialing and 5th-year medical student at the UAB, who received an entrepreneurial initiative award for her UBRA project, a smart bra that helps detect and prevent breast diseases such as cancer. She immersed herself in the world of medicine thanks to a grant she received to conduct research at the Vall d'Hebron Hospital during the pandemic. Here she offers us her view on medicine, with a perspective that is open, innovative and patient-focused. She transmits passion for everything she talks about, and breast cancer and its prevention is now one of her priorities.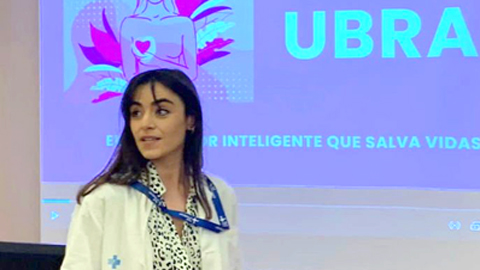 "Medicine should be promoted and practiced using a preventive approach; we are currently too focused on the disease."


"The future of medicine includes 'monitoring' and the use of wearables."

"I believe one of the most important aspects is being able to transmit innovation and creative thinking; many of the major breakthroughs were just serendipity."
"Endlessly curious, self-taught learner" are the words she uses to define herself in her CV. Born in Cuenca, Spain, she moved to Barcelona about a decade ago. Now she declares herself a "non-conformist and committed person, first with myself and then with the world".
After graduating as a Speech Therapist from the University of Valencia, she travelled to Barcelona to study a master's degree in Communication and Language Disorders (UAB-URL) and then went on to a PhD programme in Psychology at the Ramon Llull University. In her second year as a PhD student, she also began to study Medicine at the UAB.
—Why did you begin to study Medicine?
—It was something I wanted to do. I have always been fascinated by the great mysteries of life, death, ageing, diseases, etc. The Nobel Laureate Ramón y Cajal used to say that "while the brain remains a mystery, the universe will also remain a mystery". I had already finished my studies as a Speech Therapist which, in a way, also provided me with an insight on communication within the body.
—You began your PhD thesis, but stopped because you had to start working. You found a position as a healthcare auxiliary at the Quirón Hospital, right before the start of the pandemic. How did you feel about all of that?
—I was working in Quirón and we were in a meeting when Professor Santiago Ramón y Cajal, from the UAB, saw me and offered me a grant to investigate covid at the Vall d'Hebron. Everything was hectic and there was not enough staff anywhere. I had a chance to do a lot of field studies there. We wanted to discover which factors were involved in the worse prognoses, and we analysed lung biopsies of many of the patients. We needed to know what was happening.

—Did it affect you to have to work and do research at the hospital at the height of the pandemic?
—The truth is that I was not in the frontline, we were doing research and were isolated from the rest. But we were taking lots of guesses, we didn't know anything for sure, and there were a lot of unknown aspects. That is why we had to research and research. I participated by doing fieldwork.

—How did you decide to work on the UBRA Project, a bra that can detect breast tumours, that won the Explorer-Banco Santander prize—in which nine other women participated—and you are now in negotiation to collaborate with the Vall d'Hebron services of Pathological Anatomy, Gynaecology and Radiology?
—I've always been filled with curiosity. And two years ago, some of my mother's friends were diagnosed with breast cancer. I saw the huge physical, emotional, even economic impact it had on them, because many could not work due to the treatments they were receiving. And that is when I began to study and I see that every 20 seconds, a woman is diagnosed with breast cancer and in 95% of the cases, these women could have been cured if their diagnosis had been done at an early stage. I saw that the biannual check-ups are only done with women over 50. And that 25% of these women later did not go to the screening when they were called, for different reasons.
The following year, they would come to the gynaecology unit at the Vall d'Hebron and I could see they were very young women. And that surprised me greatly. I thought: What do we women wear that could help "monitor" us as a preventive measure? And that's how I came up with the idea of the bra.

—How do you turn an idea into a prized project?
—I called my friend Sara Peláez, who had studied Entrepreneurship, and I told her about this idea that connected health, technology and fashion in one single concept. She loved it. And we signed up in May to enter the competition for the Isabel P. Trabal Award for Innovative Ideas of the Caixa d'Enginyers Foundation. Of almost 200 projects, only 10 were selected from around Spain, and ours was one of the selected. We developed the full business model, and this year when we had made more progress on the idea, we presented it to the Explorer programme of Banco de Santander, with headquarters at the Pompeu Fabra University. We created a group of nine women with diferent backgrounds, mathematicians, engineers, designers, etc. and we began to work on the prototype of the UBRA bra.

—What are the values we can find in this bra?
—My idea is what is known in medicine as the 4P: personalised, preventive, participative and predictive. Personalised because many times drugs are tested with males, but not females, in mice, and we do not know the effects the drugs can have on women. We wanted a product created by women, for women. Predictive because the future of medicine includes 'monitoring' and the use of wearables.

—According to your experience, do you think research and science is not conducted from a perspective of gender? How do you see this as a woman? Does medicine need a female perspective?
—Yes, it is enormously necessary. This would help us advance in great leaps. We even saw with the Covid vaccines that the effects were different between in women than in men. It is fundamental. Women, since they entered the labour market, are making substantial contributions to society and this creates large amounts of stress, which is also related to cancer. Another risk factor in breast cancer is not having children, and there are more and more women choosing not to have kids in our society.

— Was there anything similar to this bra in the market before?
— When we studied the market, we saw that there were some similar products, but thwy weren't exactly what we wanted to create. For example, we will include a service such as the creation of a community of women who have had breast cancer or are interested in the subject. It is crucial to create networks of people going through the same thing.

— In what phase are you now in making the product become a reality?
— We need funding. We are now collaborating with the Vall d'Hebron Hospital, which is helping us validate and conduct the clinical trials. I would also like to take this chance to see if other institutions are interested in helpins as well. We also need suppliers: from the sustainable fabric industry, it would be great if we could use microplastic fibres, or potato starch for example, and we need sensor suppliers (from the technological field). We also want to create a community, open to all women, and I invite all women to join us. We will offer courses and workshops. We want to create a School of Women, with a holistic medicine approach, including physical aspects (sleep habits, sports, nutrition, sexuality, etc.) and emotional and mental aspects (emotional, thought, stress management, etc.). Everything affects us. How you think can affect a cancer. And words affect our emotional state. For example, it is not the same to say "I am a cancer patient" than "I have cancer": the first incorporates the disease into your identity and can affect you more than the second, which is an attribution to a capacity.

— Does that affect medicine, in general?
— Yes. We must keep it in mind. How do you speak to a patient? What words do we use when communicating with them? For me, the most important part is to be present. It is key to make the patient feel that you are listening to them.

— What is the biggest challenge for women with cancer?
— I have spoken to many women who have had cancer while I was preparing the project. The often told me that they lived in fear that the cancer would come back. It is the greatest fear they have. That is why it is so important to prevent and monitor their cases to see how each of them evolves.

— Is enough being done to prevent cancer?
— Prevention is fundamental. But it is not enough. For example, many women do not know how to explore their breast. Not even my mother! Just like many women do not know that extra virgen olive oil protects against breast cancer. Doctor and one of my professors at the UAB, Dr Eduard Escrich, has conducted extensive research on this subject. Both he and Professor Santiago Ramón y Cajal, also from the UAB, have helped me and cared for me greatly, and motivated me to think differently within the world of medicine.

— What do you mean when you say "think differently in medicine"?
— This is one of the great challenges when it comes to medical studies: we memorise many things, but seldomly are we taught to go out and consider different disciplines, connect things and work with a more open mentality. Medicine has always been very rational, and functions with a lot of protocols. I think one of the most important aspects is being able to transmit innovation and creative thinking; many of the major breakthroughs were just serendipity.
— So I am guessing that you wish to specialise in the field of gynaecology?
— Yes. I am now ending my 5th year of medicine. I will be specialising in Gynaecology, specifically in mammary pathologies, at Vall d'Hebron. My final project will also focus on this area: I would like to link X-ray imaging with diagnoses and clinical variables. I do not dismiss the possibility of a residency, because I do like working with patients. And I am also interested in integrating fields such as clinical and surgery, biotechnolgoy and research. I am also interested in dissemination. As disseminators, I admire Mario Alonso Puig and Marian Rojas. We need a lot of people like them. I also like teaching, I had a chance to give classes at the UOC.

— What other activities do you do?
— I practice yoga, meditation. I like sports a lot, I played waterpolo in Valencia and now also here in Barcelona, in L'Hospitalet de Llobregat. I like playing the piano and drawing. I have always liked to have time for myself, apart from the time I dedicate to my career, and be able to find connections between different disciplines and fields. I don't have social networks, I only use Facebook. They take up too much time and that would take away time from me.
Good health and well-being