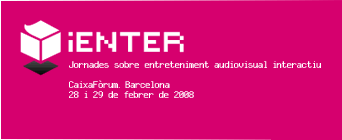 20.02.2008

Life

-

The aim of iEnter is to reflect upon interactive audiovisual entertainment and to communicate the latest innovations of the sector. The conference on interactive entertainment includes the participation of internationally renowned industrailists and academics, and will be held on 28 and 29 February at Barcelona's CaixaForum.
Organised by the Image, Sound and Synthesis Research Group (GRISS) of UAB's Department of Audiovisual Communication and Advertising, the conference proposes to observe and analyse the creation and consumption of games on different platforms, applications for mobile receivers, the contents of virtual, augmented and mixed reality appliances, developments in artificial intelligence based entertainment, pervasive technology, interactive narratives, new experiences with interactive television, cross-media applications and the new arts, designs and media for this type of communication in general.
Among those presenting papers are Peter Vorderer, Director of the Department of Communication Sciences of VU University, Amsterdam; Espen Aarseth, Principal Researcher of the Center for Computer Games Research at University of Copenhagen; Peter Olaf Looms, Senior Consultant of the Danish Broadcasting Corporation, DR, and EU MEDIA Programme Committee Member; and Ute Ritterfeld, Interdisciplinary Research Director of CAMeRA (Center for Advanced Media Research) at VU University, Amsterdam.
Round table discussions will be held by industrialists, creators and developers of interactive programmes, video games, mobile entertainment, virtual reality and virtual communities. These sessions will present the realities of the market and seek to offer perspectives for development. Taking part in the round tables will be María Teresa Cordón, General Director of Ubi Studios España (production and distribution of video games) and Ludi Wap España (production and distribution of mobile games); Oscar Dalmau (MBA), Manager of Project IL3 LAB, developer of ' Serious Games' and the use of 3D surroundings for educational purposes (Universitat de Barcelona's Continuing Education Institute); Ricard Gras, digital artist and producer of cross-media interactive contents and pioneer in the Machinima technique (animation creation through video games) and founding Director of La interactiva (official developer of Second life); Luis Sotillos, expert in virtual mass communications online and Director of Novatierra Networks SL (virtual business centre of Second Life); and Javier Villar, General Director of Négone (production, creation and distribution of leisure activities that combine virtual and real experiences, i.e. interactive reality games).

For more information on the conference please visit http://www.ienter.es.