UAB students win the Hackovid innovative app competition
The Ajudem.cat platform, winner of the Hackovid innovative applications competition, facilitates citizen volunteering thanks the publication of altruistic services among neighbours, offering information and recommendations and the possibility of videoconferences. The competition was organised by the Department of Policies and the i2CAT Foundation, with the support of Mobile World Capital Barcelona.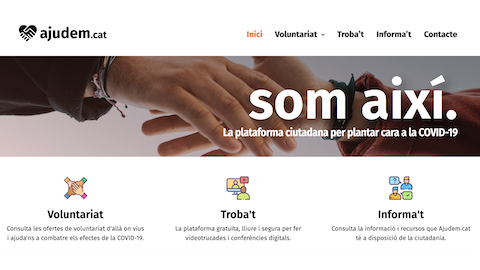 The team formed by UAB students Marc Celeiro, from the degree in Interactive Communication, and Humbert Blanco, from the degree in Management of Smart and Sustainable Cities, alongside secondary school student Pau Riba, have developed the Ajudem.cat platform, which received first prize in the innovative applications competition "Hackovid".
Ajudem.cat is an online platform that promotes and facilitates volunteering among citizens. Users can offer free services, view other services offered and conduct videoconferences. The platform also includes an information and recommendations sections related to the current COVID-19 crisis. The jury singled it out for its ability to harmonise the need to exchange services online and promote collaborations between neighbours with high usability and a functional design.
Hackovid was launched during Spring Break by the Catalan Ministry for Digital Policies and the i2CAT Foundation, and received funding from the Mobile World Capital Barcelona. It included the participation of 100 teams of programmers and ICT developers with a total of 60 entries for web services or applications.
Among these 60 entries, the jury chose the 5 most innovative and with a greater social impact, which received a total cash prize of 17,000 euros so that the designers could continue to develop and launch the implementation of their proposals. The Mobile World Capital Barcelona, through its Digital Future Society, also chose a sixth winner, which received a special cash prize of 5,000 euros and went to the technological solution which best met the needs of marginalised groups.
Més informació: Hackovid
Good health and well-being
Reduced inequalities
Peace, justice and strong institutions
Gender equality
No poverty
Zero hunger
Sustainable cities and communities