Two hundred schoolchildren to visit the UAB accompanied by volunteer students
Over 200 children from 21 schools located in the surrounding towns and participating in the CROMA 2.0 socio-educational programme will visit the UAB on Tuesday 30 May accompanied by UAB volunteer students. The volunteers welcome the children, who come from more disadvantaged backgrounds, and help them discover the joys of studying at university.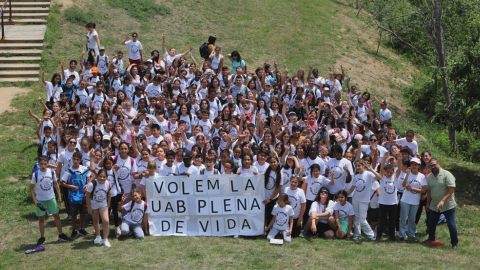 El CROMA 2.0 és un programa socioeducatiu que gestiona la Fundació Autònoma Solidària on estudiants de la UAB duen a terme tallers a escoles de Cerdanyola del Vallès, Montcada i Reixac, Rubí, Sabadell i Terrassa per despertar l'interès per l'aprenentatge d'alumnat de 5è i 6è de primària que es troba en situació de vulnerabilitat socioeconòmica.
Enguany, fins a 30 estudiants de la UAB, en pràctiques o fent un voluntariat, han anat participat al programa, xifra històrica que reflexa l'interès que tenen per acostar-se a la realitat educativa més propera.
Durant tot els curs, més de 200 infants d'11 i 12 anys, han fet dinàmiques de grup, suport a l'estudi i projectes d'investigació acompanyats d'aquests joves que han significat també per a ells un referent positiu.
El proper dimarts dia 30 de maig, els infants participants al programa CROMA 2.0 visitaran la UAB com a activitat de cloenda del curs. La visita a la UAB és un moment il·lusionant pels infants, que probablement és la primera vegada que trepitgen una universitat. Aquest dia, els estudiants de la UAB fan d'amfitrions i s'aconsegueix que es creïn expectatives educatives en aquest alumnat d'entorns més desafavorits.
La jornada serveix per fer visibles els projectes de recerca. Enguany, quatre escoles han participat en un projecte pilot liderat pel grup de recerca MIRAS, de la Facultat de Traducció i Interpretació, que porta coma títol "Junts aprenem els nostres mons". Complementen el catàleg de projectes implementats aquest curs l'IGOP (Institut de Govern i Polítiques Públiques) amb "Què en pensen els veïns i les veïnes del barri?" com a repte plantejat, l'ICTA (Institut de Ciència i Tecnologia Ambientals) amb "Què podem fer per a disminuir la contaminació a l'escola i al barri" i GREDICS (Grup de Recerca en Didàctica de les Ciències Socials) amb "Elaboració d'un curtmetratge de cinema social, sobre desigualtats i murs".
El matí s'organitza de manera que en una primera part (de 10 a 12h) els infants presentaran els resultats dels projectes als grups de recerca GREDICS, ICTA i IGOP. En una segona part, els alumnes, a partir d'una gimcana (de 12h a 13h) pel Campus, hauran d'interactuar amb altres estudiants per a conèixer les singularitats del Campus de la UAB. Al final de la jornada faran una foto de grup i un dinar conjunt a la gespa de la Plaça Cívica. Està previst que surtin de la universitat a les 14:40h per tornar a les seves escoles.
Les escoles participants, que pertanyen a cinc municipis propers a la UAB (Cerdanyola del Vallès, Montcada i Reixac, Rubí, Sabadell i Terrassa), són: les Fontetes, Sant Martí i Serraparera, de Cerdanyola del Vallès; el Turó, el Viver, Font Freda i Reixac, de Montcada i Reixac; Del Bosc, Montessori, Pau Casals i Ramon Llull, de Rubí; Floresta, Joan Montllor, Miquel Carreras i Sant Julià, de Sabadell; i Agustí Bartra, Antoni Ubach, el Vallès, Joan Marquès i Casals, Josep Ventalló i Ramón y Cajal, de Terrassa.