The UAB takes part in the largest higher education event held in Europe
As part of the 32nd edition of the European Association for International Education (EAIE), taking place this week in Barcelona, some eighty representatves of universities from around the world visited the UAB campus on 13 September to discover its facilities and projects. The conference attendees were greeted by Rector Javier Lafuente, who welcomed them to "our open, diverse and inclusive university".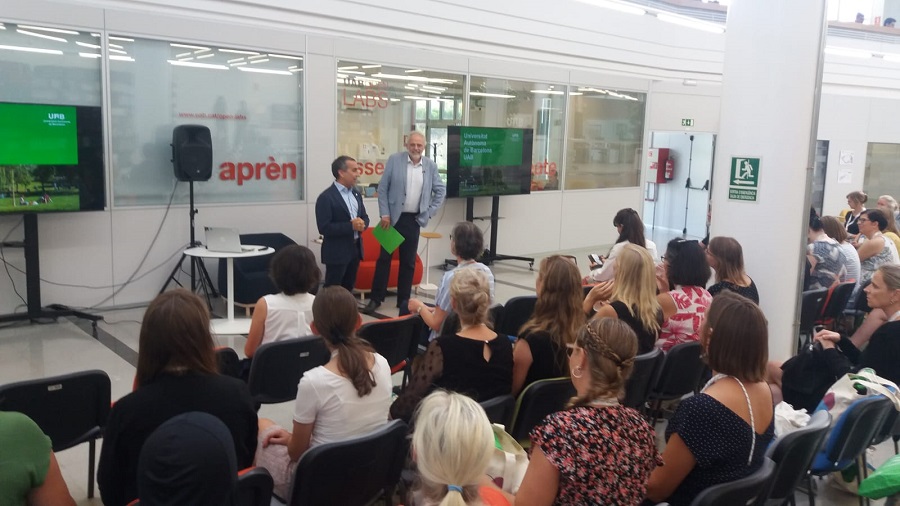 Rector Lafuente greeted the visitors at the Digital Lab, located at the Journals Hall of the Humanities Library. In his speech, he emphasised the traits that make the UAB a unique institution within the Catalan university system, such as its synergies with surrounding social and economic fabrics. Vice Rector for International Relations Màrius Martínez, then presented the main characteristics of the UAB with details on its university community, academic programmes, and some of the main initiatives focusing on internationalisation, as is the ECIU University.
During their visit to the campus, representatives from a variety of universities were able to discover the Open Labs and other projects working towards strengthening the social impact of the UAB, such as its CORE research communities, and the collaborations conducted with the Parc de Recerca UAB and with the surrounding region through its Hub b30 project. The attendees were also able to visit the Institute for Environmental Science and Technology (ICTA-UAB) and learn about the main teaching and research activities in the social sciences, as well as the One Health approach of main UAB actions in the field of health sciences.
The EAIE conference is being held from 13 to 16 September and is entitled "The Future in Full Colour". It brings together university members from around the world to share innovative ideas and practices related to the internationalisation of higher education. Various sessions focus on all types of issues related to internationalisation, as well as a universities and entities' fair where visitors can discover all the services involved in the different sectors of international education. On 15 September, the UAB Casa Convalescència will also play host to another event activity, the UAB Partner's Day, in which representatives of UAB-affiliated institutes will come together to share ideas and professional practices.
Quality education