The UAB and the International Labour Organisation sign a memorandum of understanding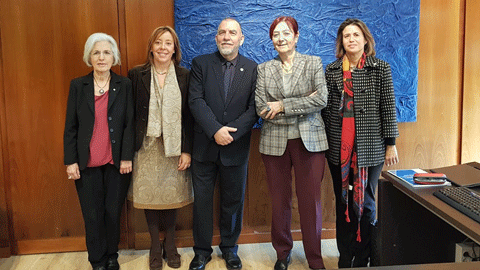 The International Labour Organisation (ILO), which will celebrate its 100th anniversary in 2019, has begun a debate on the future of the labour market in which it seeks to include universities. The UAB has signed an agreement with the Spanish office of the ILO to collaborate on this new challenge.
24/01/2018
Rector of the UAB Margarita Arboix and the Director of the Spanish office of the International Labour Organisation Joaquín Nieto signed on 24 January a memorandum of understanding to begin new collaborations between the two institutions. The memorandum was put forth by the Faculty of Law. Attending the signing of the agreement was the Dean of the Faculty Esther Zapater; the Secretary General of the UAB Cristina Riba; and Professor of the Department of Public Law and Legal History Studies María Jesús Espuny.

Rector Arboix considered the collaboration with the ILO one of the "driving forces" which can help the university "open its eyes" at the present and future transformations taking place in the labour world. She went on to say that universities face the "challenge" of thinking about "new programmes and new approaches to what we do" with the aim of not losing "the role we have been given" in society. Joaquín Nieto affirmed that the ILO approaches its centenary immersed in a "debate on the future of work" in which it aims to have "the academia participate". In addition, he explained that ILO wishes to create a network of persons from universities in Spain and Latin America who will study labour and trade union related issues.

Fostering Decent Working Conditions

The memorandum stipulates that the UAB and the ILO will work together on a variety of activities such as courses, seminars, colloquia, joint programmes and publications, etc. The main objectives of the agreement are: to foster the 2030 Agenda for Sustainable Development Goals, collaborate in the ILO's Future of Work Initiative; and promote others initiatives related to decent work, labour relations, international labour laws, social protection, etc. Both entities will also work together to organise the celebrations of the 100th anniversary of the ILO, to take place in 2019.

Among other collaborations, the UAB will take part in the First University Meeting for Researchers, Experts and Networks on the Future of Work, which will take place in Madrid on 2 February. A debate on gender pay gap is being organised at the UAB which will take place in March, in commemoration of the International Working Women's Day, and also an interdisciplinary conference which will coincide with the ILO's 100th anniversary celebrations.