The discovery of Tutankhamun's tomb, from an archaeological landmark to a play
The UAB Theatre hosts the premiere of the show "The Tears of Tutankhamun", a production that returns to the Ancient Age to relive the youth of one of the most famous pharaohs in the history of Ancient Egypt, in commemoration of the centenary of the discovery of his tomb.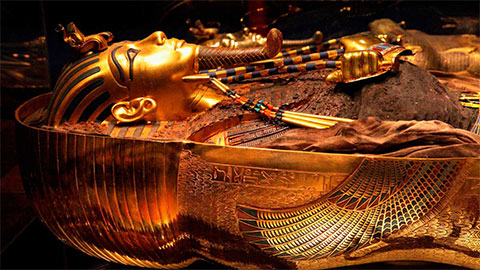 "I recently discovered a tomb that had been hidden for more than three thousand years. Where there was nothing, I found what no one thought possible: an intact tomb of a pharaoh. Perhaps, I expected nothing from myself, that is the main reason why I revive Tutankhamun and, with him, his legend," the synopsis highlights.
The play, directed and dramatised by Marcel Vilarós, explains the story of the discovery of the tomb of Tutankhamun by archaeologist Howard Carter, one of the greatest milestones in ancient history and archaeology, as it was the first pharaonic tomb to be discovered in the age of mass media.
The play "The Tears of Tutankhamun", produced by the Plataforma Blanc i Negre, will take place next Thursday 1 December at 1pm at the UAB Theatre. The public will be able to enjoy free of charge (limited to the capacity of the reserved space) a performance that focuses on the history of the beginnings of archaeology, Ancient Egypt, Egyptian iconography and transvestism, through characters such as the Pharaoh Tutankhamun and the archaeologist Carter, and others such as Lord Carnavon, the English aristocrat who financed the excavation of the tomb of the Egyptian king, Nefertiti, Tutankhamun's stepmother, and Ay, his successor as Pharaoh of Egypt.
During the show, through flashbacks and the narrative convergence of two different timelines, the two main characters will explain their realities and, indirectly, the history of the ancient world in Egyptian lands.
To commemorate the centenary of the discovery of Tutankhamun's tomb, along with the bicentenary of the decipherment of the Egyptian hieroglyphics, the UAB has also organised other cultural activities related to this historical landmark. Until 20 December, the exhibition "Beyond Tutankhamun. 30 years of Egyptology at the UAB", which commemorates the 30th anniversary of teaching and research in Egyptology at the UAB, will be on display.
Tickets must be booked at the following link. For more details on opening times and programming, please contact us by email at cultura.enviu@uab.cat.