Space exploration in this year's First Lego League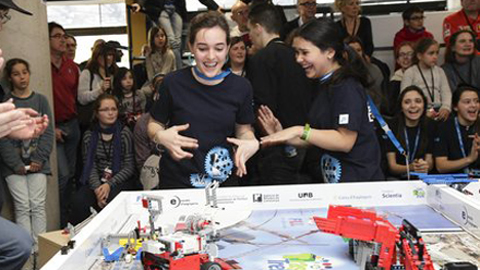 On 9 February, the UAB will host the First Lego League, in which students will need to investigate and then solve modern scientific challenges by applying mathematical concepts and developing skills such as team work and communication.
30/01/2019
On 9 February, the UAB once again will host the First Lego League, an international tournament in which participants design, build and programme robots using the LEGO® MINDSTORMS® technology. The aim of the tournament is for young boys and girls to have the change to investigate and solve modern scientific challenges by applying mathematical and scientific concepts to real life. This will help them develop skills and competences such as team effort, solving problems and learning to communicate, while at the same time enjoying the tournament.

In 1989, researcher and inventor Dean Kamen founded FIRST (For Inspiration and Recognition of Science and Technology), a non-profit organisation wishing to inspire young people to become interested in science and technology through innovative programmes. In 1998, FIRST and the Lego Group joined forces and created the FIRST Lego League. Since 2006, the Lego League is organised in Spain by the Scientia Foundation, a non-profit entity aiming to promote scientific and technological vocation through values such as innovation, creativity, team effort and problem-solving skills.
This edition will send students up into space through the INTO ORBIT challenge. Young boys and girls aged 6 to 10 years old will have to think like tru engineers and scientists to manage to explore the universe. The teams will each need to conduct a scientific project in which they will solve a real problem related to the challenge. Moreover, they will build and programme an independent robot using Lego® MINDSTORMS® technology to complete the missions in the Robot Game.
More information: Firts Lego League