Smart valorisation solutions for rice husk ash to be developed
Researchers from the Department of Chemistry are leading a European project that aims to revolutionise the way rice husk ash, a growing environmental and health problem, is used. The team, involving up to eight organisations, will develop multifunctional compounds from the ash residues, which will also be environmentally friendly.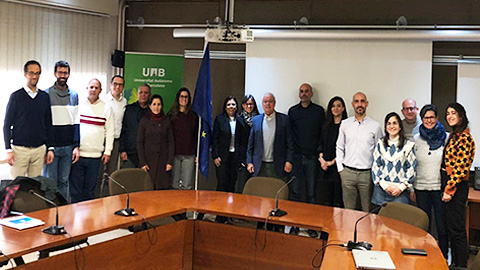 An average of 3.1 million tonnes of paddy rice (about 450,000 ha) is produced in the EU, mainly in Italy and Spain and, to a lesser extent, in Greece and Portugal. Globally, more than 750 million tonnes of paddy rice are produced worldwide each year and this figure is estimated to increase steadily by 1% per year. Due to its low degradability, this material accumulates in the environment and is usually disposed of by combustion, but this process generates ash whose improper deposition and handling pollutes the environment and damages the respiratory system of humans and animals, posing a major challenge for the areas in which it is dumped.
Researchers from the Group of Separation Techniques in Chemistry (GTS) at the UAB are leading a project to develop and validate zeolite-based multifunctional composite materials obtained from rice husk ash. For 4 years, they will work on the project "Valorisation of agro-industrial waste to obtain zeolite-based composite materials and their use in environmental remediation and biofuel production (VALZEO)", funded by the Horizon Europe programme (MSCA-SE Programme), alongside researchers from the Universidad Pablo de Olavide, the Università Politecnica delle Marche, Aeris Tecnologías Ambientales, S.L., and from Sustainable Innovation Technology Services Limited (SITES).
"Our group's concern for the environment and discovering the potential of these wastes encourages us to explore and develop multifunctional materials for environmentally-friendly applications. The new materials will be used for the removal of pharmaceuticals, pesticides, dyes and microorganisms from water, on the one hand, and for the catalytic production of biodiesel, on the other. In addition, the project will generate new opportunities in Europe and third countries," explains Roberto Boada, GTS researcher and project coordinator.
The project will also promote exchanges among researchers from participating institutions to enhance the sharing of knowledge, good practices, innovative ideas and experience. To this end, it will foster and develop ongoing international and cross-sectoral collaborations between academic research centres and the private sector in the target regions.