Sixth edition of the "Thesis in 4 minutes" to be held on 17 May
The UAB will be holding a new edition of its "Thesis in 4 minutes" competition, in which PhD students are asked to explain their research in a maximum of four minutes. Candidates may submit their applications until 12 noon on 27 March, and the competition will take place in front of a jury on 17 May.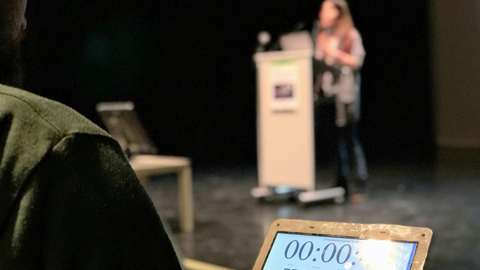 The competition, open to PhD students of scientific disciplines, was created so that they could present their research with easy to understand language and comprehensible to the general public in a maximum of four minutes. To participate, candidates must be at least in their second year of a UAB PhD programme, not have defended their thesis before the date of the competition, and, if chosen winner, be committed to representing the UAB at the "Thesis in 4 Minutes" final competition held by the Catalan Research Foundation on 22 June 2023 in Lleida.
The competition is structured into two phases. Candidates will first present their proposals by submitting them online and later be asked to summarise their PhD thesis in video format. The second phase will consist in having the candidates selected by the jury attend a training activity on 2 and 4 May, in which they will prepare their presentation. Finally, the finalists will present their PhD thesis in front of the jury on 17 May.
The jury, formed by a representative from the Office of the Vice Rector for Research and one from the Office of the Vice Rector for Communication and Culture, and research members from the UAB and the Doctoral School's Permanent Board, will be in charge of allocating the prizes. The first prize includes an €800 cash prize and all expenses paid to travel to Lleida to the final competition, and the second prize includes a €500 cash prize. A third prize will be awarded to the best presentation chosen by the audience, with a cash prize of €200. A new prize will also be offered this year, the Joan Oró special prize to the transmission of values and entrepreneurship, which includes a cash prize of €300 (the last two prizes are compatible with the first and second prize awarded by the jury).
For more information on the call details please click on the following link: https://www.uab.cat/tesi4minuts/.