Return to face-to-face classes for the Pre-Established students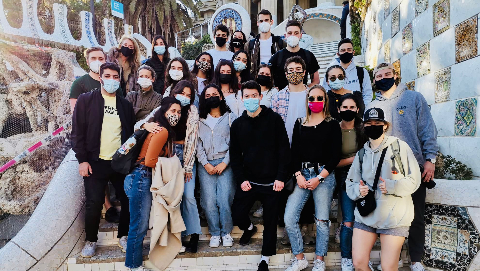 Last March 8th, the adjustment of the constraints set by the sanitary authorities to prevent the expansion of the Covid-19 pandemic made possible for the Spring semester students to return to the classroom.
17/03/2021
The new indicators of containment of the pandemic allowed the students to get reunited in Casa Convalescència to attend face-to-face classes again, favouring likewise their socialisation and interaction, a rellevant aspect of the Study Abroad experience, together with interculturality and inclusion.
The group had started the semester last January 25th, a 12-week learning programme based on a blended educational formula, adapted to the global pandemic context, combining online training, face-to-face classes and social interaction.
The return to face-to-face tuition has allowed the start of the external cultural and academic activities too, an essential element of the programmes, and the group has visited Parc Güell, one of Gaudí's most known works after Sagrada Família, and the Museum of Design, both in Barcelona.