Physics+Mathematics students win first place in the PLANCKS competition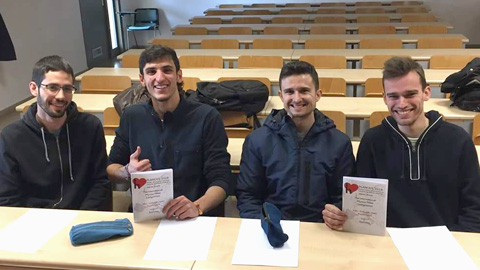 The classification of the four students in the preliminary phase will allow them to participate on 12 May in the international competition final, to be held in Zagreb, Croatia.
06/04/2018
PLANCKS is an international physics competition organised yearly by the International Association of Physics Students (IAPS) in which groups of three to four undergraduate and graduate students may participate. The competition consists in solving a series of problems from different areas of physics within a limited time period. The UAB students have passed the first preliminary phase and will go on to participate in the final competition, to be held this year in Zagreb, Croatia, on 11, 12 and 13 May. The organisers of the competitions have also included a series of symposiums, excursions, the prize ceremony and other activities which will take place on the weekend of the competition.

Each country may enter two group representations in the final phase, except for last year's winning country, which in this case is Spain, which can have three groups. With the aim of choosing the groups for each country, participants must first overcome the preliminary phase with a similar structure to that of the final competition. The issues included the areas of optics, thernodynamics, cosmology, quantum mechanics, the Zeeman effect and solid state physics, consisting of a total of six problems which students had to solve in a total of two hours.

Of the ten groups participating for Spain, the only group representing the UAB passed the preliminary phase in first place, followed by two teams from the Complutense University of Madrid. The team formed by Víctor Escolano, Bernat Molero, Gabriel Garau and Joan Solà will therefore be participating on 12 May in the final phase of this year's competition.