Online course 'Idea Generation and Social Entrepreneurship', free on the Campus Virtual intranet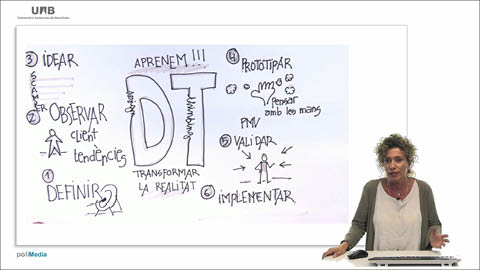 Aimed at UAB students, this course consists of 15 audiovisual microlearning lessons, available with subtitles in English. The topics covered include creativity, the cooperative business model and stories of entrepreneurial ventures told by the entrepreneurs themselves.
01/02/2022
The academic year has already begun and the UAB is once again offering the online course Idea Generation and Social Entrepreneurship to its students, free of charge through the Campus Virtual intranet. The course is divided into three phases, each with five microlearning lessons, which anyone can see with English subtitles by clicking the CC button on the video player.

The videos are ten to twelve minutes long and should be viewed in sequence. Learners take a four-item test in order to move on to the next video. Passing all these tests entitles them to a personalised certificate. For the complete syllabus, click on this link.

To join the course all you need is being a UAB student and having a valid, activated student ID (NIU). Just fill in this form and the course will then appear in the Moodle classrooms for the 2020-2021 academic year on the Campus Virtual intranet.

For more information, please write to uab.empren@uab.cat.

This course is part of the project Social and Ethical Entrepreneurship, led by the office of the vice-rector for Equality and Employability, with the support of the UAB Employability Service through its UAB-Emprèn programme on idea generation.