New spin-off to develop the first gene therapy-based pulmonary fibrosis treatment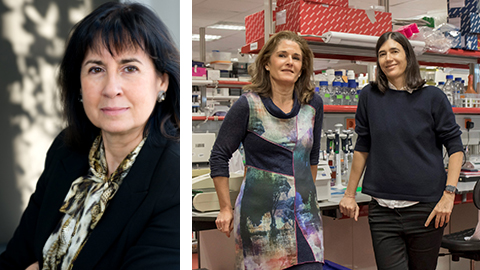 Fàtima Bosch, professor in Biochemistry and Molecular Biology and director of CBATEG at the UAB, alongside Maria Blasco and Paula Martínez from the National Cancer Research Centre (CNIO), have founded Telomere Therapeutics, with funding from Invivo Ventures.
01/12/2020
After years of joint research and scientific papers, molecular biologists Maria Blasco, from the National Cancer Research Centre (CNIO) and Fàtima Bosch, Director of the Centre for Animal Biology and Gene Therapy at the UAB (CBATEG), have developed a telomerase-based gene therapy for the treatment of different pathologies related tot he shortening of telomeres and, therefore, ageing. This gene therapy may prove to be a huge step forward in curing diseases that are increasingly frequent among the ageing population and that at the moment cannot be effectively cured.
This is what led CNIO and the UAB to fund a new spin-off, Telomere Therapeutics, which will turn these discoveries into treatments for diseases such as pulmonary and kidney fibrosis. "It is the first time that the treatment of these diseases is approached from a profound knowledge of the molecular mechanisms of ageing", researcher Maria Blasco comments.
Pulmonary fibrosis affects over 128,000 people around the world and in 2025 it is expected to rise by 62,000 new cases due to the demographic ageing of the population and increase of elderly people. The life expectancy of patients suffering from pulmonary fibrosis is of three years average due to the fact that there are no treatments that can cure this disease.
The initiative by Blasco and Bosch is pioneering in yet another aspect. This scientific spin-off is 100% made up of public institutions from Spain and is the result of basic research conducted in these research centres, as well as receiving funding from a Spanish investor. These institutions are: the National Cancer Research Centre (CNIO) and the Universitat Autònoma de Barcelona (UAB), centres in which Blasco and Bosch work, respectively. Telomere Therapeutics has received a multimillion-worth investment from Invivo Ventures in its first round of funding and its objective is to develop a gene therapy based on the gene expression of the telomerase (TERT) by using an adeno-associated virus (AAV) vector.
Maria Blasco highlights that "this is proof that excellence in basic research is the driving force of innovations. Our country has a large potential for innovation and the creation of new biotechnology firms focused on ageing-related diseases is a competitive asset at international level".
"Telomeric syndromes are caused by mutations in the telomerase and other genes in charge of maintaining the telomeres which induce extreme premature shortening", points out Paula Martínez, research member of Blasco's group and also founder of the spin-off. Some of the diseases caused by abnormally short telomeres and that would be regulated through the treatments being developed by that are too short Telomere Therapeutics are kidney fibrosis and aplastic aenemia, apart from pulmonary fibrosis.
"In these past years, several gene therapies centred on rare monogenic diseases have been a success. We see a huge potential in applying gene therapies to the treatment of severe diseases which are more common among the population", Fàtima Bosch states.
More than two decades of Maria Blasco's career has focused on demonstrating the importance of telomeres and telomerase in cancer and ageing-related diseases. Dr Blasco has published over 250 scientific paper internationally and is renowned for her achievements in the field of telomeres. Fàtima Bosch, Chair Professor in Biochemistry and Molecular Biology and Director of CBATEG UAB, has focused her work on the development of gene therapy approaches for grave genetic disorders such as mucopolisacaridosis (MPS), and also for high prevalence disorders such as diabetes mellitus. As a professional, she has renowned experience in the field of gene therapy with approximations for MPS IIIA patients ready for clinical trials, and for type 1 diabetes which have been transferred to an American-based firm which will soon begin clinical trials.
A few years ago, Maria Blasco and Fàtima Bosch began to work together in applying gene therapy to telomere-driven diseases. Their joint research has resulted in a variety of papers which establish the pre-clinical proof of concept using gene therapy in different telomere disorders and show improvements in clinical results, as in pulmonary fibrosis for example. The results were patented and have been licensed to Telomere Therapeutics on behalf of the CNIO and the UAB.
"After these pre-clinical results, we now need a stong investment to get the drug development underway, which is a costly and complex process. We are very excited with the possibility of Telomere Therapeutics taking our studies into the clinical phase, and that the potential of gene therapy reach patients of highly prevalent diseases such as pulmonary fibrosis ", Fàtima Bosch points out.
With the funding from Invivo Ventures, the candidte will be optimised and validated in the corresponding animal models. In addition to the funding, Invivo Capital general members Luis Pareras and Albert Ferrer will form part of the Board of Directors.
Luis Pareras, founding member of Invivo Capital, highlights the importance of this initiative and especially in these moments of a global pandemic: "Gene therapy has returned to centre stage, and lund diseases are becoming an object of increasing interest. Maria Blasco and Fátima Bosch have developed a very elegant scientific approach that can fight pulmonary fibrosis, which is now sadly under scrutiny given that Covid-19 patients with mechanical ventilation can also eventually develop it. Idiopathic pulmonary fibrosis is a potentially lethal disease with no existing cure, and we hope that some day this therapy will help many of these patients".
Albert Ferrer, founding member of Invivo Capital, emphasises that "Invivo aims to give support to technology transfer from the research centres and universities in Spain and improve the amount and development of innovative products. The investment in Telomere Therapeutics is a clear example of this vision and we are particularly satisfied that it will help to create a new business within this difficult economic situation we now have".
After years of development, gene therapy is now a reality, since many products have already been passed by the European Medicine Agency (EMA) and the US Food and Drug Administration (FDA). These therapies are aimed at treating monogenic disorders, among them the β-thalassemias, a rare form of loss of vision, spunal muscular atrophy and a rare form of primary immunodeficiency. In addition, there are now clinical developments of hundreds of gene therapy products for the treatment of diseases which previously could not be treated.
This information is related to the following SDG
Good health and well-being