Minister Nadal visits the UAB
Catalan Minister for Research and Universities Joaquim Nadal visited the Universitat Autònoma de Barcelona's Bellaterra campus this morning.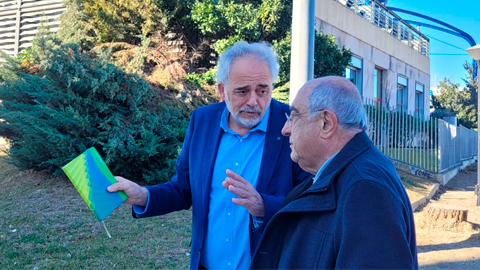 Joaquim Nadal, Minister for Research and Universities of the Government of Catalonia, visited on 20 January the Bellaterra Campus of the Universitat Autònoma de Barcelona.
After a brief presentation of the University's main indicators and future projects by UAB Rector Javier Lafuente, the minister was able to meet and exchange views at the Rectorat building's Board Room with deans of the faculties and learn first-hand about the main challenges and problems faced by each of the centres, as well as the whole of the UAB and the Catalan university system.
The rector pointed out the enormous importance of having a campus such as the UAB, in which people from different disciplines exchange knowledge and live and work side-by-side, while he also reiterated the need for more, and particularly for more just, funding.
Minister Nadal stated his appreciation for all comments, and explained that the past two government budgets and the one currently being negotiated for the year 2023 have included more money for universities, but the objective of reaching the levels prior to the economic crisis are far from being reached. He also annoucned that one of the government's priorities is to help universities cope with energy expenses and foster the rejuvenation of staff.
Following the meeting, Rector Lafuente and Minister Nadal took a walk around campus and visited the farms and Veterinary Hospital Clinic, the campus' northern axis, the UAB research park (PRUAB), the new SiS Space and the Torre Vila Puig, where the visit ended with a meeting that included members of the UAB Governing Team.