Indira Ranamagar at the UAB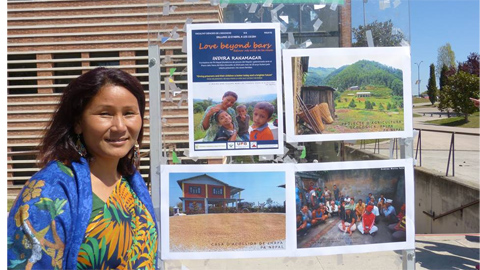 On April 13 an event took place at the Faculty of Education where Indira Ranamagar had the chance to share her experience as founder of the NGO Prisoners Assistance Nepal.
09/07/2015
Indira Ranamagar came to the UAB as a part of a European tour to explain her fostering project for the prisoner's children in Nepal. A few days after this
event took place, she had to interrupt her stay in Europe and return to her country due to the devastation caused by the terrible earthquake.
However, at the UAB she had the chance to explain her humble origins and how she started her first fostering home reconverting some lands property of her
family. There she built the first fostering home aiming at assisting children whose parents where to be incarcerated and, because they didn't have any
relatives to be left with, so would they. Nowadays she supports four fostering homes all around Nepal, where the children live in community and learn at
school with a genuine methode based in practise and called "junkiri", that means
light
in Nepali.
You can watch the video on the following
link
.