End of the Campus Ítaca 2022
On Friday 15 July, the closing ceremony was held for the second and last period of this year's Campus Ítaca, which began on 27 June. A total of 317 students from over 60 secondary school centres from different towns of the Vallès Occidental and Vallès Oriental regions partipated in the programme.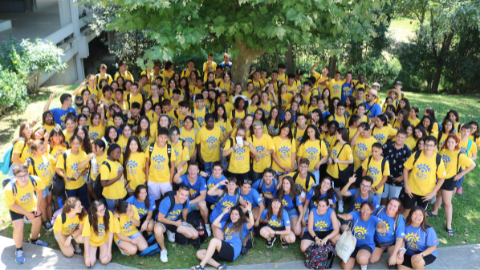 Once again, the UAB held its annual Campus Ítaca, which this year reached its 24th edition, organised by the FAS in collaboration with the Faculty of Education and the support of Banco Santander, the participating city councils and the Vallès Occidental County Council.
Campus Ítaca is a socioeducational programme in which the UAB campus becomes a place of coexistence for students in their third year of secondary school and encourages them to continue with their education once they finish compulsory school through a series of activities. The boys and girls taking part in the campus, aged 15 and 16, are students who like learning and earn good marks, but come from families with economic difficulties, which may affect their decision to enter the labour market instead of continuing with their studies.
Participating in this year's edition were 317 teenagers from a total of 64 secondary schools from 20 different towns in the Vallès Occidental and Vallès Oriental regions: the first group attended from 27 June to 5 July, and the second was on campus from 7 to 15 July. This year, for the first time, activities were also held from 3 to 5 p.m., which allowed them to discover new activities related to radio and television, anthropology and culture, languages and social networks in addition to the other more leisure and teaching-related activities, in which they learned about different subjects through workshops, problem-solving based on real cases and research projects, while at the same time doing physical activity and socialising with other members of the campus. All activities included the participation of UAB lecturers and the support of UAB instructors, with the aim of promoting positive attitudes towards studying, encouraging their curiosity and will to continue learning and discovering all the things one can do at a university campus.
This year's edition was particularly special since it marked the return to normality with regards to sanitary measures set down during the pandemic, with no need for distancing between groups and with inaugural and closing ceremonies held exactly like in the pre-COVID editions.
Quality education